Historic opportunity at hand to achieve goal of prosperous Nepal : PM Oli
---
---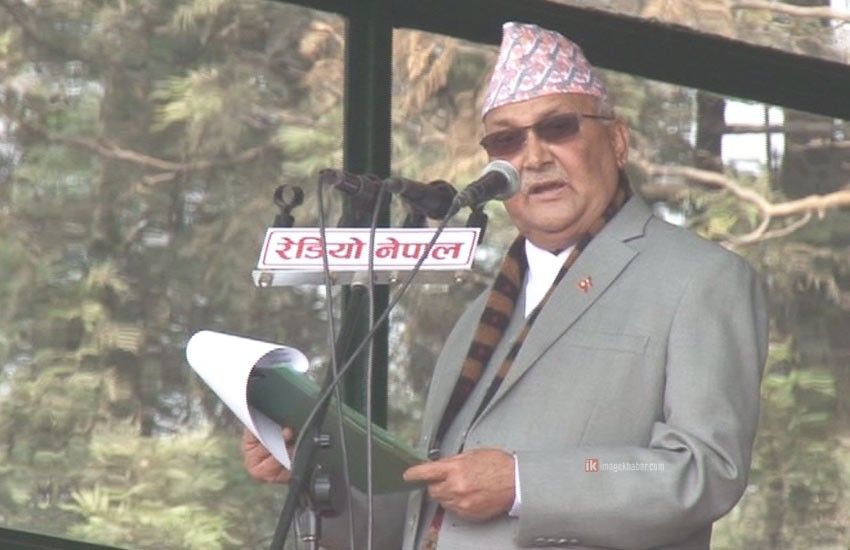 "Nepal's constitution built by the people's representatives along with guarantee of people's sovereignty, republic and federalism, social justice, inclusive ruling system and progressive changes has already come into force. The country is in the process of forming a government at every province level with the successful completion of the three-tier election," he said.
In his address to a special ceremony organised at the Nepal Army Pavilion, Tundikhel today, marking the 68th Democracy Day, the Prime Minister said a historic opportunity was at hand to meet the goal of building a happy and prosperous Nepal through the establishment of a just social system and economic development. Such opportunity was possible due combined efforts of one and all.
Stating that a process of equally distributing the State power to local-levels had already kicked off with the formation of seven provinces and 753 local-levels and a new chapter had commenced to rule through a coordinated way being confined to self jurisdictions.
The Prime Minister who is also the chair of 68th National Democracy Day Main Celebration Committee said respect to people's sovereignty, safeguard of national unity and interests, strengthening of rule of law, promotion of good governance, stability, development and prosperity fell under the government's future course of action.
"Time has come for transforming and upgrading our administrative norms and values, and spirit adopted by the constitution in a way that the people can live with," said PM Oli.
He also urged all Nepali people living in and outside the country to work for the development and prosperity of the country.
"I with common resolutions appeal to all political parties and the people for moving and working hand-in-hand for economic change, prosperity, good governance and social justice," he said.
Extending his best wishes to all Nepalis on the occasion of the 68th Democracy Day that marked an end to the 104 years autocratic Rana rule, he paid tributes to all known and unknown martyrs who sacrificed their lives for the sake of democracy.