Democracy challenged by leftist alliance: PM Deuba
---
---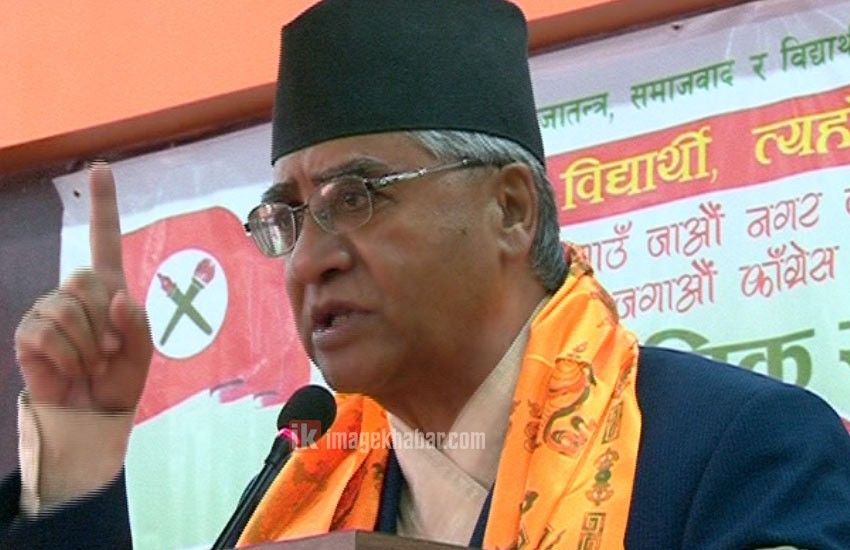 The PM said this while addressing the 'national strategic training' organized by Nepal Students Union, the sister organization of the Nepali Congress, here today, in the run-up to the House of Representatives and State Assemblies elections.
He stressed that it was necessary to make the Congress victorious in the elections to safeguard democracy.
"The communists are trying to establish communism by using the democratic system and fooling the people. It is necessary for all the democrats to be alert about this," he said.
Stating that the country itself would be in peril if democracy is threatened, PM and Nepali Congress president, Deuba called on all the Nepali Congress people to be united to defend democracy. "Finishing off democracy means the end of the Nepali Congress," he added.
Party senior leader Ram Chandra Poudel said since the Congress was a party that is standing on the foundation of the Nepal Students Union, it is the NSU's job to safeguard the party. "The Congress is in crisis and the NSU should move ahead in unison to protect it," leader Poudel reiterated.
He claimed that communism which is disappeared from the world could not be implemented in Nepal. "Communists do not have any ideals, norms and values, and principles," he said, adding that nationality and democracy would be endangered if one-party authoritarianism is thrust upon the nation.
Party general secretary Dr Shashank Koirala said the leftist alliance was forged to finish off democracy in Nepal. He stated that people's attraction towards the Nepali Congress was increasing as it is a party with glorious history, credible principles and dedicated cadres.
Minister for Information and Communications and party central member, Mohan Bahadur Basnet spoke of the need of mobilizing the students to ensure the victory of the Nepali Congress in the elections as per the need.
"The unity of the communists who have moved ahead climbing the ladder of democracy will not have any impact on the Nepali Congress," he said.
Central member Dr Prakash Sharan Mahat called on the NSU to play a pivotal role in safeguarding democracy. "The dream of the communists to establish communism in Nepal in 15 years will not be fulfilled," he added.
Minister for Agricultural Development and party central member Ram Krishna Yadav said that the Nepali Congress should emerge victorious in the elections even for implementing the constitution.
NSU president Nain Singh Mahar and general secretary Kundan Raj Kafle said the education sector took a significant leap forward during the time of the Nepali Congress-led governments. They claimed that it was the NC that would also take the country towards prosperity.
Party leaders Pradip Giri, Mahesh Acharya, Dhanraj Gurung, Gagan Thapa, Pradip mPoudel, Bishwa Prakash Sharma, National Planning Commission (NPC) vice-chairman Dr Swornim Wagle among others will train the hundreds of NSU supporters who have arrived in the capital from various places of the country to participate in the gathering, according to NSU. (RSS)