NC central working committee meet begins to review poll results
---
---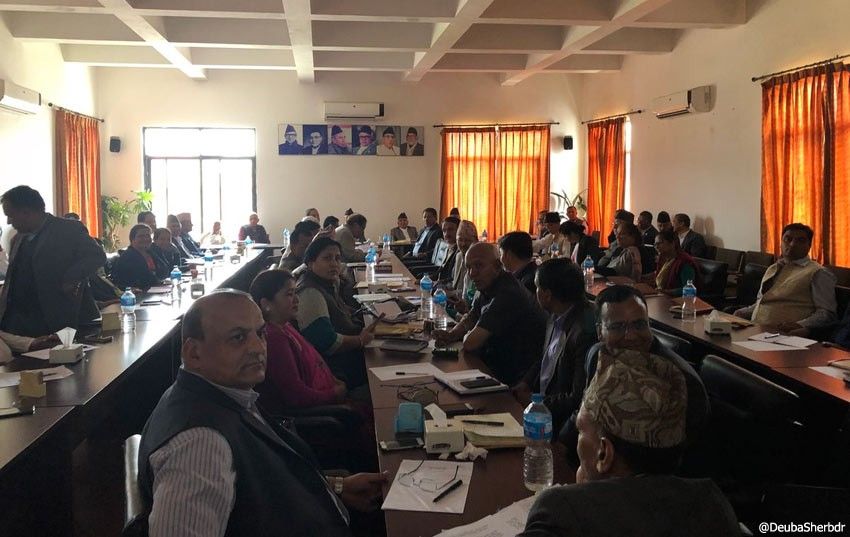 The meeting began at 12:00 noon today will make a thorough review of the 'unexpected' results the party got in the elections to the House of Representatives and State Assemblies held in two phases late last year.
The meeting chaired by Party President and former Prime Minister Sher Bahadur Deuba is attended by senior leader Ram Chandra Poudel, General Secretary Dr Shashanka Koirala and other officials and central members.
The previous CWC meeting convened on January 18 and 19 held general discussions on the issue while the today's meeting will go through the issue in detail, as stated by party spokesperson Bishwa Prakash Sharma.
Though this is the first CWC meeting of the party after the twin elections held on November 26 and December 7 last year, in-depth discussions on the poll results were still awaited.
Those meeting focused on taking official decisions regarding the election of National Assembly, elections of the President and Vice President and on discussions about party's parliamentary statute.
He said this meeting which will last for three to four days in connection with holding extensive discussions shall also fix the date and place for the party's general body meeting.
Some youth leaders in the party who have formed panels have been blaming the party leadership's working style for the drubbing the party faced in the elections.
Central committee members supporting party senior leader Ram Chandra Poudel and those supporting party president Sher Bahadur Deuba are said to be preparing for a showdown in the meeting, trading charges at each other in the meeting, the former blaming the party president's 'wrong' working style for the party's loss in the elections and the latter on the defensive.
The Nepali Congress, which is the country's largest and oldest party, could win only 63 seats, including 23 seats towards the first-past-the-post system and 41 seats in the proportional representation system, in the elections to the 275-member House of Representatives.
The Nepali Congress has to be content as the main opposition party in the federal and the provincial parliaments after the drubbing in the elections.
The party's this meeting has been taken as important in setting the party's future course of action in such context.