PM says results not matching level of investment in education
---
---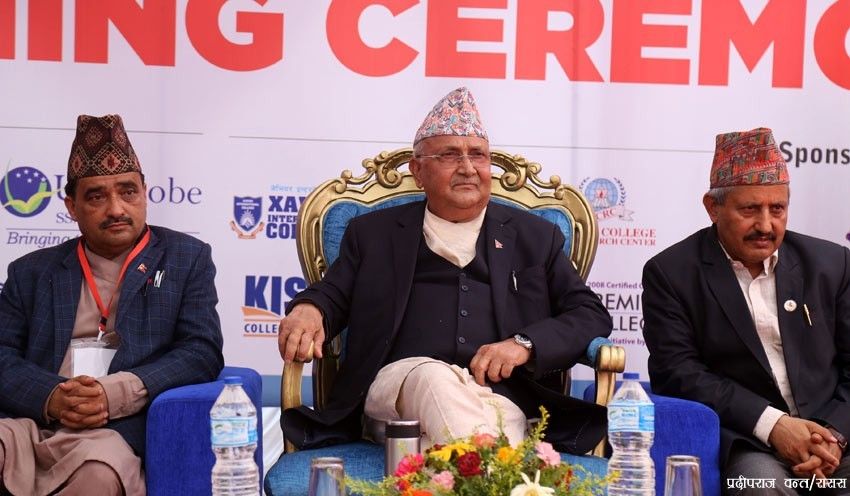 Inaugurating the 5th Kantipur HISSAN Education Fair in the capital today, PM Oli said better results could not be achieved in the education sector due to the managerial weakness and lack of attention to quality education on the part of the government despite the huge investment in this sector.
The Edufair is organised by the Higher Institutions and Secondary Schools' Association of Nepal (HISSAN).
Prime Minister Oli on the occasion called on the community schools to lay emphasis on quality education, saying no compromise would be made with anyone on the quality of education.
He said the government was determined to provide the kind of education capable of producing the human resources required by the country, adding that the education that the government would provide henceforth would be life skills based.
"Now we are discussing on what kind of human resources is needed for the country's development. We would henceforth produce only the human resources required for the country. These human resources would fulfill their parents' as well as the country's dreams," Premier Oli said.
Noting that success could not be achieved as the students do not have the opportunity to study the subjects of their interest, he said the government would now impart education which brings out the talents of the students.
PM Oli, who is also the Chair of the Communist party of Nepal, stressed the need of reforming Nepal's education sector with the government, community and the private sector working together.
The Prime Minister said the private educational institutions cannot charge arbitrary fees just saying that they have contributed to education development.
"I do not mean to say that the private institutions should make losses. What I mean is do not seek over profit. Take reasonable fees. You should not charge fees in unnecessary headings under various pretexts," he said.
PM Oli said the government is formed not for fame but to carry out works liked by the people.
HISSAN president Ramesh Silwal said the private sector was ready to work in collaboration with the government.
He noted that the private educational institutions were providing quality education within the country and they were working to create a situation in which the Nepali students would not have to go abroad for higher studies except in exceptional cases.
Education Fair coordinator Lok Bahadur Bhandari said the event has been organised to give the message to the students and parents that one could get education at a par with education abroad in the country itself.
More than 150 colleges and institutions of higher education have kept their stalls. Entry in the fair is free.
The Edufair will run for three days at Bhrikutimandap exhibition hall at the Pradarshani Marga in the capital. Around 200,000 students and parents are expected to visit the education fair.