Muddy road to Bouddha hassling commuters
---
---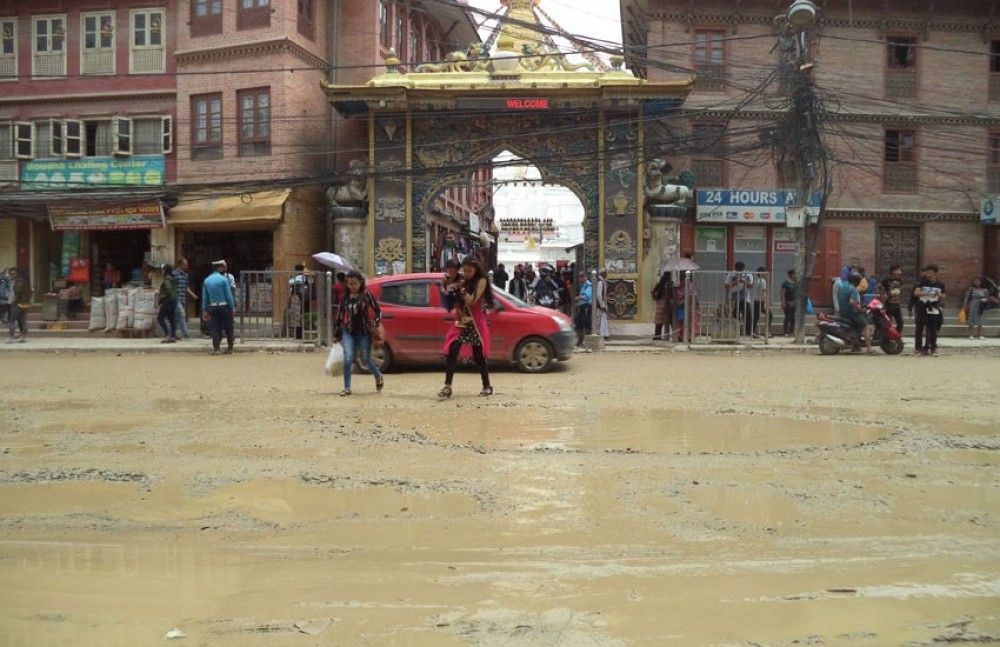 Purna Prasad Mishra
Kathmandu, June 18 (RSS): With the arrival of monsoon, the road from Chuchchepati to Jorpati in the Kathmandu Valley has turned into a muddy field as though it is being prepared for transplanting paddy seedling.
It is the way to reach the Boudhnath monastery, one of the popular World Heritages, visited by thousands of domestic and foreign tourists every month. But, the protracted repair and reconstruction of the road has badly troubled the commuters and vehicles. What's the message such sorry state of road in the capital city giving? The people wonder.
Earlier, the road in the section of Chabahil to Chuchchepati was same. But in view of Indian Prime Minister's visit, this section was repaired over night. "If the reconstruction and repair were continued in that pace, the road to Bouddha could also be a shining to make us feel it a city road," complained a local Parbati Tamang.
According to her, the contractors were arguing that road sides were not clear, but if the space cleared was reconstructed, it would be a huge relief to the people.
The houses on both sides of the road are being demolished but very slowly to give space for expanding the existing road.
For the expansion of the road from Chabahil to Jorpati, United Builders and Engineers had got contract on September 30, 2015.
Meanwhile, Kathmandu Valley Road Expansion Project has said the reconstruction of the road was delayed because of the Supreme Court's order, dispute over the area of road and lack of budget too.
Tek Bahadur Nepali, working as a tailor at Bouddha Pipalbot said, "Soil with pebbles was piled on the road a week back, but as no work was forwarded since then, it is now muddy, and giving soiled splash to the commuters with the vehicles on drive."
Information Officer at Project, Bijay Lal Shrestha said many houses were yet to be demolished because of the dispute over old and new survey. Such dispute is up to Jorpati, he added.
With botched up widening, the pipes of drinking water and sewerage are broken at numerous places of Bouddha and Jorpati.
Similar is the condition of Jorpati to Sankhu road. Only 40 percent of work has completed in the 1.2 km road stretching from Bagmati Bridge to Thali so far.