Chief Justice lays foundation stone of court annex
---
---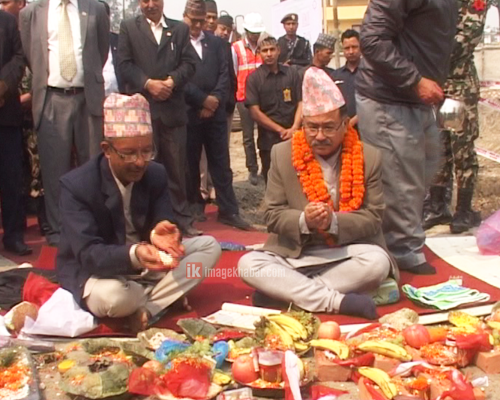 Lalitpur, March 23: Chief Justice Kalyan Shrestha today laid the foundation stone of the annex block of the Appellate Court, Patan.
The annex is being constructed on a nine ropanis plot at a cost of approximately Rs 350 million. The construction of the earthquake-resilient building would be completed in three years, Chief Judge at the Appellate Court, Ananda Mohan Bhattarai, said.
The annex would have 92 rooms. Eleven hearings can be conducted from the building. It would also have parking lot for 29 cars and 40 motorbikes.
On the occasion, the Chief Justice lauded the Appellate Court, Patan for its 'encouraging' performance in terms of clearing cases despite the heavy workload.
The Appellate Court Patan alone is said to handle about 36 per cent of the total cases in the country.
Speaking on the occasion, the Chief Justice said that the government should manage the sensitivities and needs of the courts in a responsible manner. He said the State should respect the concerns of the judiciary.
"The judicial service is the main service of all services. The courts should play a role in the development of the country. It is the job of the courts to introduce reforms," he said adding that justice and good governance can be conceived of only when the courts are effective and accessible.
Senior-most justice at the Supreme Court Sushila Karki spoke of the need of the judiciary also to change its working style and reform itself in tune with the changed context.
Minister for Law, Justice and Parliamentary Affairs Agni Kharel said the government is preparing to construct the infrastructures of the sensitive offices like the court only at government expenses.
He also took exception to the protest launched by the employees of the judiciary over the reduction of the incentive allowances.
Minister Kharel criticised the protest which he said has been waged without internalising the sensitivity of the judiciary and at a time when the Chief Justice has been holding consultations with the Finance Minister and the Law Minister over the issue. RSS