Prez Bhandari urges to maintain glory of Bagmati River
---
---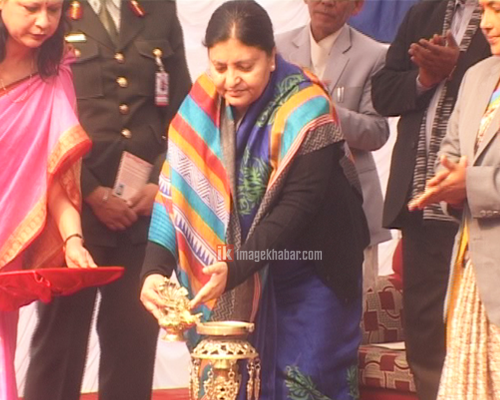 Kathmandu, March 26: President Bidya Devi Bhandari has urged all to join hands to preserve the glory of cultural and historical image of the Bagmati River.
While inaugurating the Bagmati Festival organized by the High Powered Committee for Integrated Development of the Bagmati Civilisation on the occasion of the 150th week of the Mega Bagmati Clean-up Campaign at Guheshwari here today, President Bhandari stressed that it was our common responsibility of protecting the glorious history of the sacred river.
She added that the river has a close attachment with our birth to death rituals therefore such cultural heritage should be protected even to handover it safely to the new generation.
President Bhandari expressed the commitment to support such campaigns to maintain the clean image of the river as she has emotional attachment with the river in a painful stage of her life. She also suggested constructing a Bagmati Museum to maintain various cultural heritages related to the river.
On the occasion, Acting Prime Minister and Minister for Physical Infrastructures and Transport Bijaya Kumar Gachhadar pointed out the need for all to focus on cleaning the Bagmati river as it represents religion and culture of the country.
"Bagmati is polluted as in politics, society and religion. It will not possible without participation of all to clean up pollution in the river as well as in politics, society and religion," he said.
State minister for Urban Development Manju Kumari Chaudhary urged all to join hands to clean the river.
Similarly, former Chief Secretary and Bagmati clean-up campaigner Lila Mani Poudyal stressed the need for all to stand up from their respective place to tidy the river.
"People including civil servants should also unite to clean the river and people should act as a watchdog against those polluting the river," he said.
Chairman of the High Powered Committee for Integrated Development of the Bagmati Civilisation Kishor Kumar Shakya said that people should come together to clean up feeder rivers and other pond and lakes. RSS