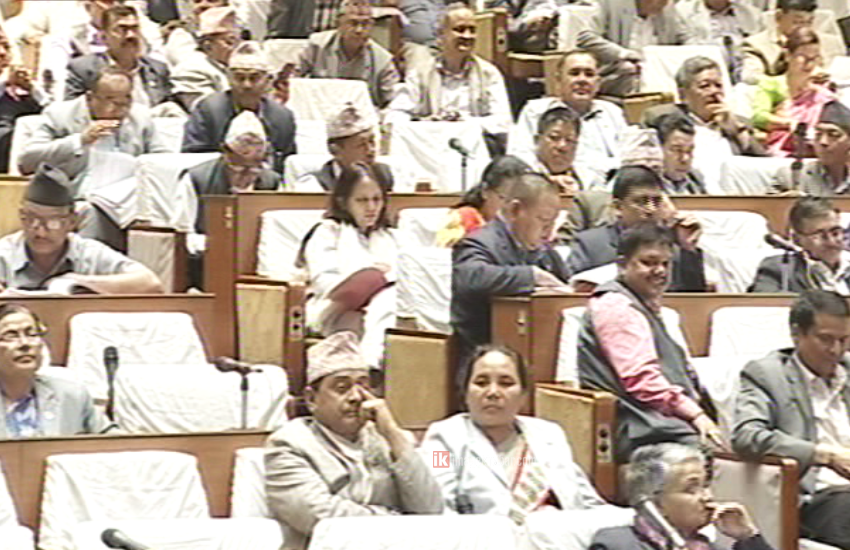 Kathmandu, July 24: Parliamentary discussions are underway on the no-confidence motion registered by some political parties including the main opposition Nepali Congress and CPN (Maoist Center ) against Prime Minister KP Sharma Oli.
Taking part in the discussions, leaders from the main opposition, the major ruling party CPN (UML) and the Maoist Center said the main agenda of the country and political parties was to enforce the constitution.
NC leader Krishna Prasad Sitaula said there was no legal confusion regarding the formation of a new government. None was superior than the people's elected parliament and the parliament decision would be the supreme in deciding the fate of any government.
The Prime Minister who had already lost majority was expected to resign once facing the minority. Any attempt to lengthen the government tenure by the chief of minority government could not be taken as a democratic move, he argued.
Stating that the NC and other some political parties realised the need of registering the no-trust motion against the Oli-led government as it failed to show strong commitments towards facilitating the constitution enforcement process.
" The meaningful enforcement of the constitution will be the main priority of the new government," he said. Leading the country towards the path of peace and development with forging the national consensus was the main responsibility of all political parties, Sitaula said.
Likewise CPN (UML)'s Jhalanath Khanal said his party believed that the process of government change should take place in an usual way and no-trust motion would only invite instability in the country. Party having the majority in the parliament is eligible to lead the government, and in the absence of it, anyone should leave the post, he said.
"The need of national consensus is highly realised in the country, five elections are expected to be conducted within one and half year," he said, adding that all political parties should move head maintaining mutual trust to meet the needs of the country and people.
Rekha Sharma of Maoist Centre said the no-confidence motion had to be introduced because Prime Minister Oli was ignorant towards fully implementing the constitution that has institutionalized achievements of various movements.
Upendra Yadav of Federal Socialist Forum said it was but normal to support the no-confidence motion against the government that has suppressed the Tarai residents.
Deliberations continue on the no-confidence motion. RSS