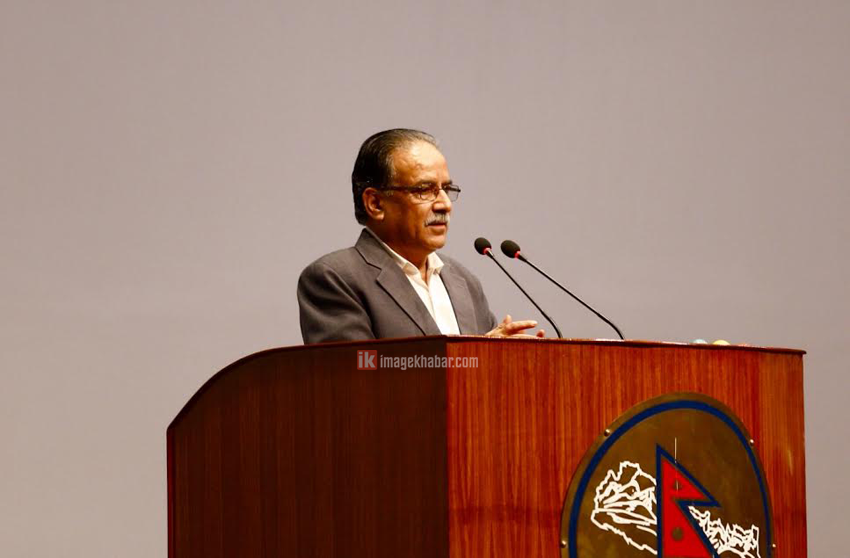 Kathmandu, Aug 3: Parliamentarian Pushpa Kamal Dahal informed the Legislature-Parliament meeting today about his candidature to the post of Prime Minister in accordance with the Article 298 (3) of the Constitution of Nepal and the Rule 49 (4) of the Legislature-Parliament Regulations, 2073 BS.
In this connection, Dahal paid tributes to those people who lost their lives in the People's War, the People's Movement and the Madhes Movement, and high respect to those injured in course of these movements.
Saying that he was not very happy that a national consensus government could not be formed, Dahal reiterated that consensus was the need of the day. He maintained that consensus could be maintained on national issues and he would put in his best efforts for cooperation and collaboration after his election as the Prime Minister.
Dahal stated that he takes the CPN (UML)'s decision of not fielding candidacy to the post of Prime Minister positively, making it clear that to continue the collaboration with the UML, the post-earthquake reconstruction, concluding the peace process and constitution implementation and operation of a balanced foreign policy would be the priorities of the government under his leadership.
"Let us not practice the politics of exclusion and my desire is the politics of consensus and cooperation," Dahal said.
Leader Dahal stressed that not polarization but fostering of mutual trust was the need of the hour, pointing out the need of doing away with the culture of mistrust and differences.
He also underlined the need of removing the dissatisfaction in the Madhes and that he would play the role of a bridge to resolving the Madhes problems.
In this context he referred to the three-point agreement reached among the Nepali Congress, the CPN (Maoist Centre) and the Madhesi Front.
Dahal was of the view that the environment was created for emphasising on the post-earthquake reconstruction and pursuing topics like protection of national independence.
The CPN (Maoist Centre) chairman Dahal expressed the commitment to implement the construction of the Fast-track and the agreements reached with China and India which are mentioned in the budget, reiterating that these projects would be completed as his party was also the coalition partner in the government.
Stating that development projects like the Postal Highway and Fast-track were moved ahead by the past governments, leader Dahal committed that the next government too would take them forward. RSS