Three-party talks fail to forge consensus
---
---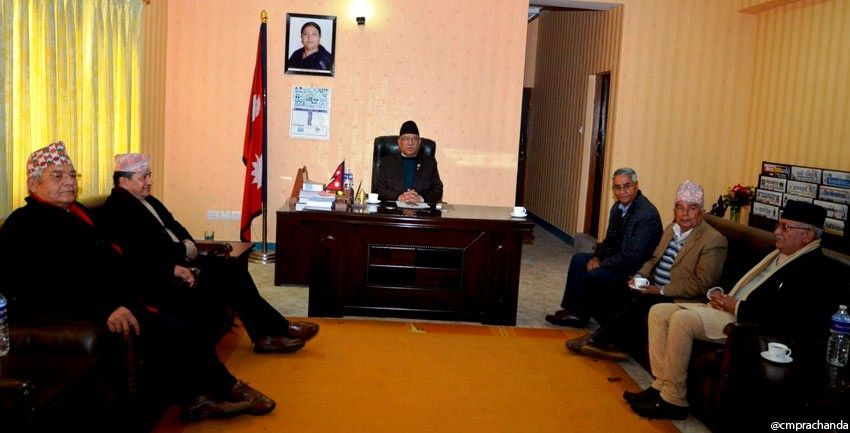 File Photo
The major three party leaders today held a meeting for the same but failed to forge consensus due to their respective stance, it is learnt.
The ruling parties, CPN (Maoist) and Nepali Congress had urged the main opposition CPN (UML) to allow the House to resume business as it has been obstructed soon after the government registered the constitution amendment bill in the parliament. The main opposition party, UML rejected the ruling parties' request and reiterated that the bill be retracted first to find a way out of the parliament impasse.
Following the meeting, UML chair KP Oli shared that his party's stance regarding the issues was 'as it is', adding the House business will soon resume when the government withdraws the bill and leads the nation towards the elections.
Similarly, Nepali Congress senior leader Ram Chandra Poudel said the efforts to forge consensus were still underway as consensus is still elusive.
To a query by journalists regarding tabling of the bill in the parliament today, leader Poudel said it was up to the Speaker.
Similarly, UML vice chair Bamdev Gautam informed that the obstruction was caused by the ruling parties themselves; therefore, they should withdraw or postpone the bill to end political deadlock and only then UML soon will resume the House.
After attending the meeting, CPN (Maoist Centre) leader Narayan Kaji Shrestha shared that the meeting decided to continue the efforts to forge consensus. He stated that the ruling parties were not in a mood of waging a conflict with opposition parties. He added that however, in other parliamentary matters, the Speaker may take appropriate decisions.
It may be noted that after the meeting, Prime Minister Pushpa Kamal Dahal and NC President Deuba expressed optimism to outlet the crisis soon, adding that they were trying to forge consensus. RSS