Reinforcing community resilience in post-earthquake reconstruction drive
---
---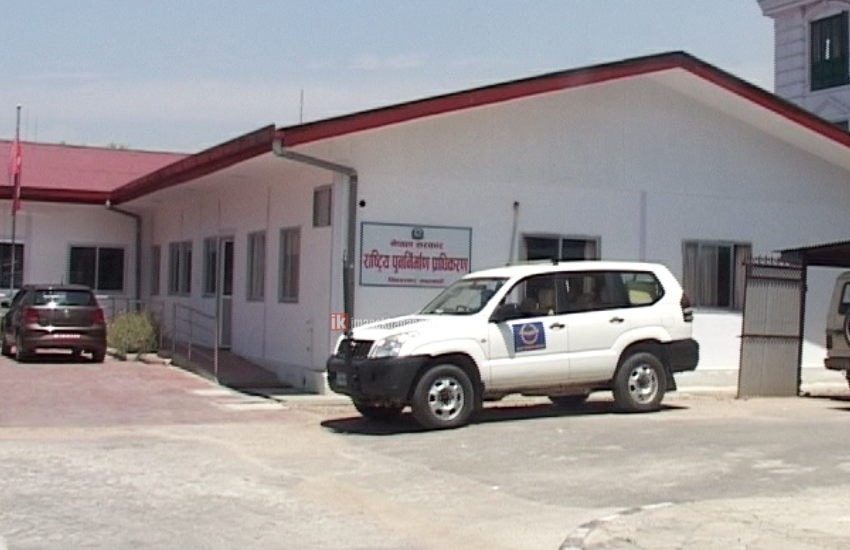 (Deepraj Sanyal)
These two earthquakes are the biggest ever earthquakes the country has experienced in its history not to mention other smaller ones. The National Earthquake Safety Day commemorates the 1934 earthquake which was a magnitude 8 temblor.
It is a day to reckon the nature's fury and the vulnerability of life and man-made structures. Nearly 20 months after the latest earthquake that jolted the country and the national conscience in terms of earthquake resilience, the 19th ESD is the most apt day to make an objective and realistic appraisal of our community's resilience to earthquake. The 19th ESD is being marked on and around January 15, 2017 with week-long programme activities.
The Meeting of ESD National Committee Chaired by Home Minister Bimalendra Nidhi and held on December 28, 2016 has decided to mark the day around the slogan – 'Earthquake Resistant Buildings and Infrastructures for Community Resilience!' The Main Programme of 19th Earthquake Safety Day will be held at Sankhu, Shankharapur Municipality, Kathmandu. The Day will be marked in the 75 district Headquarters, Municipalities and many communities.
The Earthquake Safety Day is a Day to reaffirm national commitment towards saving lives and lessening potential losses from future earthquakes and also reviewing past efforts on Earthquake Risk Management and strategizing way forward.
The Government of Nepal had decided in 1999 to observe this Day annually in commemoration of the most devastating tremor that quaked on 15th of January 1934 (i.e. 2nd Magh 1990 as per Bikram Sambat Calendar) in Nepal-Bihar region.
The ESD is actually the culmination of earthquake risk management works implemented in the country in the last 12 months, and thus allows taking stock of the achievements and shortcomings. Raising awareness among people and authorities on impending earthquake risk and on ways to mitigating the risks is a key for reducing the risk.
ESD National Committee led by Ministry of Home Affairs (MOHA) is accompanied with representatives from various government and nongovernment agencies related to Disaster Risk Reduction, Emergency Response and Critical Facility Management. Two sub-committees are formed separately Chaired by DUDBC for Publicity campaigns and host Municipality for Event Management. The National Society for Earthquake Technology- Nepal (NSET) serves as the Member Secretary of the Earthquake Safety Day National Committee and both Sub-Committees.
As in the previous years, various events are planned to observe the ESD throughout Nepal as collaborative effort of various stakeholders under the leadership of Government of Nepal.
Reinforcing community resilience
The country is presently fully into the post-earthquake reconstruction phase. It is at this stage that the policy makers and planners should emphasise on augmenting to the community's resilience to earthquake. This requires that all the physical infrastructures that we are rebuilding now and plan to build in future should meet the required standard as per the building code. Experience tells us that the lax implementation of the building code and the flaws in construction have become a 'death-trap' in the event of an earthquake.
As per a study carried out for the National Institute of Standards and Technology of the United Sates, there are seven dimensions characterizing community functionality in terms of resilience to disaster. These dimensions include: Population and Demographics, Environmental/Ecosystem, Organized Governmental Services, Physical Infrastructure, Lifestyle and Community Competence, Economic Development, and Social-Cultural Capital
It will be germane here to reiterate that every factor above is taken into account while carrying out the post- earthquake reconstruction works so that our communities are better prepared in the face of a natural disaster like earthquake. The objective of enhancing disaster resilience is to minimize loss of life, injuries, and other economic losses. It is also aimed to minimize any reduction in quality of life due to one or multiple hazards. Disaster resilience can be achieved by enhancing the ability of a community's infrastructure (e.g., lifelines, structures) to perform during and after a severe disturbance. It can also be achieved through emergency response and strategies that effectively cope with and contain losses and through recovery strategies that enable communities to return to levels of pre-disaster functioning (or other acceptable levels) as rapidly as possible.
The Population and Demography dimension in relation to building community resilience comprises population distribution and composition, and socio-economic statuses like income, poverty and occupation; the Environmental/Ecosystem dimension includes water quality/quantity, the air quality, soil quality, biodiversity, biomass (vegetation) and other natural resources; the Organised Governmental Services dimension includes components as the Executive/Administrative, Emergency Response and Rescue, Health and Hygiene, Judicial and Legal/Security.
Similarly, the Physical Infrastructure dimension of community resilience encompasses these components: facilities which includes residential, housing units, shelters, commercial distribution facilities, hotels and accommodations, manufacturing facilities, office buildings, cultural sites, entertainment venues, museums, religious sites, schools, sports/recreation venues and lifelines as communications, health care; food supply; utilities; and transportation facilities.
Under the Lifestyle and Community Competence dimension come collective action and decision making, conflict resolution, self-organization, collective efficacy and empowerment, and quality of life while the Economic Development dimension comprises of financial services, the industry-employment-services sector, agriculture, construction, education and health services. Likewise the Social Cultural Capital dimension includes components as child and elderly services, commercial centers, community participation, cultural and heritage services, education services, non-profit organizations and place attachment.
Building sound and robust community resilience to any disaster requires integrating and factoring in all the above components. These components should be taken well into account when the post-earthquake reconstruction drive is underway in the country. RSS