President attends Republic Day programme
---
---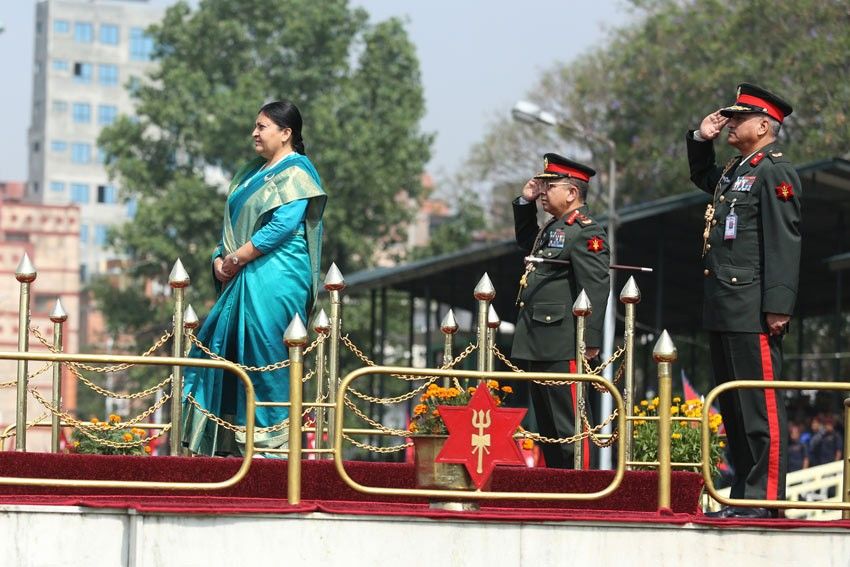 On the occasion, President Bhandari, Vice President Nanda Bahadur Pun, Prime Minister Pushpa Kamal Dahal 'Prachanda', Chief Justice Sushila Karki and Parliament Speaker Onsari Gharti released pigeons, the symbol of peace, wishing for peace.
The Nepalese Army presented a guard of honour to the President at the function. An Army helicopter displayed the Republic banner and dropped flower petals from the air.
The function commenced with the playing of the tune of the national anthem which was followed by the observance of silence in memory and honour of the martyrs who laid down their life in the movements for political change.
At the programme, the Nepalese Army, Nepal Police and the Armed Police Force presented a march-past as well as music and dances evoking patriotism.
Various skills were displayed on the occasion by the Metropolitan Traffic Police Division, the commando squad of Nepal Police, the riot control unit of the Armed Police Force and the Nepal Scouts.
Also displyed in the programme were the floats related to the republic and with the cultural identity depicting the costumes and lifestyle of Kathmandu Metropolitan City, Bhaktapur Municipality, Lalitpur Metropolitan City, Madhyapur Thimi Municipality, Kirtipur Municipality and Madhyapur Municipality.
A dance performance that attracted the attention of the onlookers in the programme was that of a dance accompanied by the traditional Nepali music ensemble – panchaibaja – depicting a marriage procession carrying the bride in the palanquin.
The judo and taek-won-do display by school children and the varied presentation on agriculture production put up by the different bodies under the Ministry of Agricultural Development also stole the show.
The security forces presented a formation in the shape of the national flag, the national flower Rhododendron, and a lamp depicting all the ethnic, linguistic and cultural composition of Nepali society.
The programme was broadcast live by Nepal Television, Radio Nepal and other electronic media.
Deputy Prime Minister and Home Affairs Minister Bimalendra Nidhi, government ministers, lawmakers, the chiefs of constitutional bodies, government high ranking officials, the chiefs of all the four security bodies, rthe chiefs and representatives of the foreign diplomatic missions in Nepal and distinguished persons various walks of life were also present in the programme.
The 15th of the Nepali month Jeth is celebrated as the Republic Day which commemorates the historic day on May 28, 2008 when the federal democratic republic was proclaimed in Nepal. RSS