China envoy says handling China-U.S. ties with power shifting theory "misleading"
---
---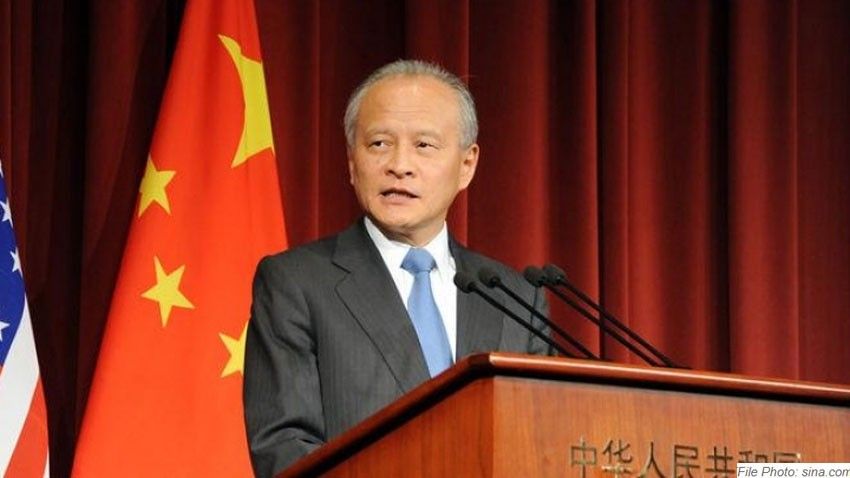 In an opinion piece published on the USA Today's website, Cui noted that thanks to the UN charter that enables a world order relying on norms and rules rather than wars and conflicts, and the "unprecedented globalization" that connects the world, the conflict between the world's two largest economies has now become "not inevitable."
"The zero-sum mentality is outdated … To build trust and mutual benefit in a globalized world we need more – not less – engagement, especially when globalization faces challenges," said Cui. "No one can opt out."
"China's future is inextricably tied to the health and well-being of the world, and the U.S. is an invaluable component," he said. "The historical mission of our two countries is not the transfer of global dominance from one to the other, a misperception, which if allowed to persist, can lead to confrontation."
He added that China believes the two countries should commit to fostering a new type of major-country relationship rooted in mutual respect and cooperation, rather than confrontation and conflict.
"Our track record demonstrates that we are, indeed, better together," he said. "Cooperation is the only path, and problems should be solved through extensive collaboration."
Cui wrote the article on the eve of the 19th National Congress of the Communist Party of China (CPC), which will review the country's efforts over the past five years and blueprint its domestic and international agenda for the next five years and beyond.
Cui said the gathering will "open up new prospects for, and add new impetus to, the exchanges and cooperation between China and the rest of the world, including the United States."
Trump is expected to visit China next month as part of his five-stop tour in Asia that will also take him to Japan, South Korea, Vietnam and the Philippines.
The White House said Monday that Trump, during his stay in Beijing, is expected to attend a series of bilateral, commercial and cultural events, including meetings with his Chinese counterpart, Xi Jinping.
Xi met the U.S. leader in April at Trump's Mar-a-Lago residence in the State of Florida, where they exchanged views on issues of bilateral and global concern. (Xinhua/RSS)