DPRK blasts joint air force exercises as "extremely reckless"
---
---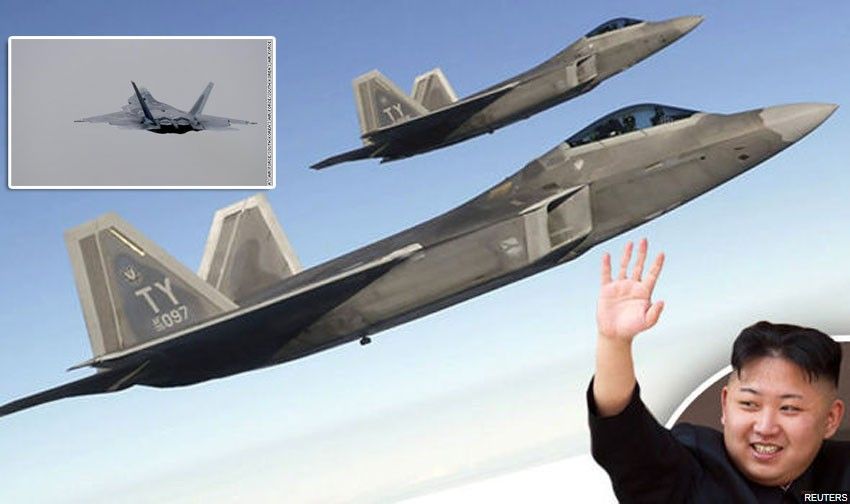 The official Korean Central News Agency (KCNA) made the remark in a commentary on the U.S.-South Korea "Vigilant Ace" joint exercises.
"Involved in the rehearsal to last until Dec. 8 are the 5th, 7th, 11th and 12th air forces, marine corps and naval forces of the U.S. deployed in its mainland and the Pacific operational theater including Guam and Japan and more than 140 planes of various missions including nuclear strategic bomber B-1B, stealth fighters F-22A, F-35A, F-35B and electronic jamming plane EA-18G and all troops and 90-odd planes of the South Korean puppet air force," said the KCNA in a commentary.
The commentary said Washington and Seoul are "hell-bent on the exercises simulating an all-out war against the DPRK, including drills to strike the state leadership and nuclear and ballistic rocket bases, air fields, naval bases and other major objects of the DPRK and its command posts of front line units, armored equipment and personnel and long-range artillery units."
"Particularly, the U.S. imperialists are staging an ultra-precision strike drill with high intensity just like in a real war focused on 'removing' the DPRK's state leadership and core facilities by massively introducing the ultramodern stealth fighters," said the KCNA commentary.
While accusing Washington and Seoul of using the exercises as an occasion for waging real war against the DPRK, the commentary said Washington has already issued to the air forces involved in the exercises an "order on air duty" for a simultaneous strike on at least 700 major military targets of the DPRK.
"Owing to the U.S. imperialist warmongers' extremely reckless war hysteria, a grave situation is prevailing in the Korean Peninsula that a nuclear war may break out any moment," it added.
Washington and Seoul annually conduct large-scale military drills to counter the alleged threat of the DPRK nuclear and missile programs.
The DPRK test-fired a new type of intercontinental ballistic missile (ICBM) last week, Hwasong 15, which Pyongyang says is capable of hitting the entire U.S. mainland and marks the completion of its nuclear and missile system. The situation on the Korean Peninsula has been extremely volatile.
As a next-door neighbor to the DPRK, China has made it clear it wants a nuclear-free, peaceful Korean Peninsula, making strenuous efforts toward it, including to secure a political solution based on a suspension-for-suspension proposal and dual-track approach.
The dual-track approach involves parallel efforts to move forward both denuclearization and the establishment of a peaceful mechanism on the Korea Peninsula. The suspension-for-suspension initiative calls for the DPRK to suspend its nuclear and missile activities and for the United States and South Korea to suspend their large-scale war games.(Xinhua)