Earthquake victims facing problem in reconstruction for lack of construction materials
---
---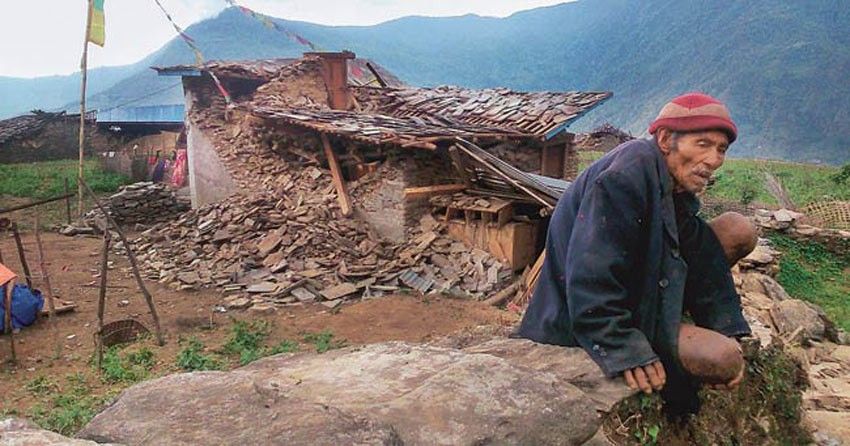 There is crunch of construction materials like hardware and other raw materials as they are not readily available.
The earthquake victims have complained of not getting the construction materials even after visiting every hardware store in Sindhuli in search of cement, iron rods and other materials.
More, there is also the artificial shortage of locally available construction materials as stones, sand, gravel, among others. The earthquake victims are faced with the dual problem as the price of construction materials has been increased more than double the previous price, apart from the shortage.
Khamba Bahadur Dhakal of Kamalamai Municipality-4 said he could not get the 16mm iron rod and cement even after making several visits to the hardware stores in Sindhuli Bazaar.
"I need to finish the DPC of my house by the second week of this month. But I cannot complete the DPC works within that time as there is shortage of construction materials," he complained.
The earthquake victims need to complete the DPC related works by the second week of January in order to qualify for getting the second installment of the government grant for house construction.
Dhakal added that his house design was passed after many months of applying due to the cumbersome process for the same fixed by the municipality. "After getting the house design approved from the municipality after so long, now I am facing shortage of construction materials further delaying the construction," he lamented.
Now earthquake survivors have been purchasing a sack of cement at Rs 960 to Rs 1,000 as against Rs 700 – Rs 800 before. Similarly, the price of a piece of iron rod has reached to Rs 87 from Rs 67.
The earthquake survivors have been compelled to reach Bardibas in search of construction materials after they failed to get them at hardware shops in Sindhuli on time. They have started to buy stones at Rs 12,000 per tipper, sand at Rs 11,000 per tipper and pebbles at Rs 18,000 per tipper from Bardibas after local businessmen started making price hike making artificial shortage of raw materials.
The earthquake survivors complained that the bodies concerned have not paid any attention even after the price of construction materials has increased more than double.
However, proprietors of hardware shops said that they had to increase the price of construction materials after the supplier companies have sent the construction materials by increasing the price. The proprietors said that the price of cement and iron rod would increase again. They said the price of construction materials has increased due to the insufficient import of raw materials required for the construction materials from India.