PM Oli says neither there's hurry nor delay in unification of UML and CPN (MC)
---
---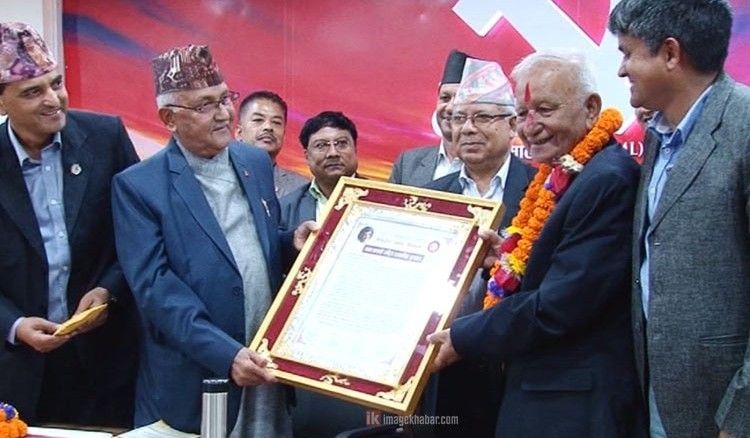 In his address to a special programme organised by the CPN (UML) Central Publicity Programme to present the Madan Bhandari National Journalism Award at the party central office, Dhumrabarahi today, party chair and Prime Minister stressed that the matter of uniting both parties before his India visit taking place from coming April 6 should not be dragged into controversy.
"We neither want to unite the parties in haste nor wish to lengthen the process." A joint taskforce formed to facilitate the unification process is reportedly working. Prime Minister Oli's India visit has been scheduled from March 6 to 8.
On the occasion, the head of the government promised to ensure employment opportunities for youths within the country through proper utilization of domestic capital and attractions of foreign investment.
The country would move ahead by assimilating the challenges for upgrading to a developing one by the next three years with Maximum production, just distribution and economic savings and benefits would be the priorities of the government, he added.
Journalist Koirala bags award
On the occasion, the award carrying a purse of Rs 50,555 was presented to senior journalists and writer Kamal Koirala. The Prabashi Manch Nepal, Qatar close to the party has set up a revolving fund of Rs one million for the award.
Journalist Koirala has various articles in his name on personality and political career of leftist leader Madan Bhandari and on 'people's multiparty democracy' is the former ambassador and lawmaker.
Receiving the award, Koirala announced to handover the award amount to the family of the late journalist Birendra Saha who was killed during the conflict. Journalism is the significant and powerful profession in the world, he said.
Party secretary and department chief Yogesh Bhattarai said the establishment of award in the commemoration of leader Bhandari was to further explore the personality of veteran leader and promote people's multiparty democracy.
Party central member and Department deputy chief Surya Thapa highlighted the contribution of journalist Koirala to democracy and the Communist movement in Nepal, He is the son of former Prime Minister and Nepali Congress leader and Prime Minister Matrika Prasad Koirala and was arrested for his involvement in the Communist movement while his father was in the prime ministerial post, as stated by Thapa on the occasion.