PM Oli embarks on state visit to India
---
---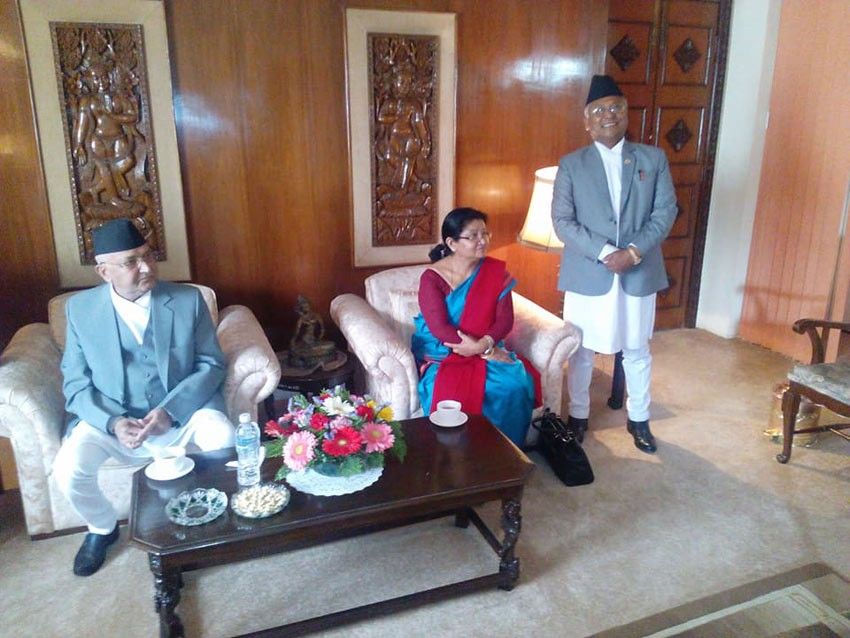 Kathmandu, April 6 (RSS) Prime Minister KP Sharma Oli has embarked on a three-day state visit to India today, leading a 54-member delegation.
This is his first foreign visit which is taking place 50 days since he was elected the Prime Minister. The PM is visiting India at the invitation of the Prime Minister of India, Narendra Modi.
The Prime Minister left for India at 9 am today on a regular flight of Nepal Airlines Corporation.
Defence Minister Ishwar Pokharel, Minister for Labour, Employment and Social Security Gokarna Bista, Education Minister Giriraj Mani Pokharel, CPN (UML) vice-chairman Bamdev Gautam, deputy general secretary Bishnu Poudel, former speaker Subas Nemwang and the secretaries of various ministries of the Government of Nepal were present at the airport to see off the Prime Minister.
Prime Minister Oli is accompanied by his spouse Radhika Shakya; Minister for Foreign Affairs, Pradeep Kumar Gyawali; Minister for Industry, Commerce and Supplies, Matrika Prasad Yadav; Minister for Physical Infrastructure and Transport, Raghubir Mahaseth; Chief Advisor to the PM, Bishnu Rimal; Members of Parliament; the Chief Secretary; Secretaries and other high-level officials of the government.
The members of the federal parliament in the PM's entourage include Sarat Singh Bhandari, Dinanath Sharma,Rameshwar Raya Yadav, Motilal Dugar, Ganesh Singh Thagunna, Shanta Chaudhary, Uma Regmi, Rambir Manandhar, Sitaram Mahato and Bimal Prasad Shreebastav.
The government high officials in the delegation are Chief Secretary Lok Darshan Regmi, Foreign Secretary Shanker Das Bairagi, Secretary at the Ministry of Industry, Commerce and Supplies Chandra Kumar Ghimire and the Chief Executive Officer at the Investment Board of Nepal Maha Prasad Adhikari.
Other government officials in the delegation include Joint Secretary at the Water and Energy Commission Madhav Belbase, Finance ministry joint-secretary Kewal Prasad Bhandari, Director General of Department of Railways Ananta Acharya, Joint Secretary at the Ministry of Foreign Affairs Bhrigu Dhungana, Chief of Protocol Deepak Adhikari, Executive Director of Nepal Agricultural Research Council Dr Baidyanath Mahato.
Similarly, the Prime Minister's personal physician Dr Divya Singh Shah, the Prime Minister's press advisor Dr Kundan Aryal and the Prime Minister's personal secretary Rajesh Bajracharya are also accompanying him.
Nine Nepali officials including Charge d' Affaires at the Nepali Embassy in India Bharat Kumar Regmi, Economic Minister Krishna Hari Pushkar among others will join the PM's entourage in India.
Film star Rajesh Hamal and director Dinesh DC are also in the team.
Journalists and media persons of the Rastriya Samachar Samiti, Nepal Television and Radio Nepal are also part of the PM's delegation. (Photo available)