Election symbol issue is still under discussion, says Maoist Center Chair Dahal
---
---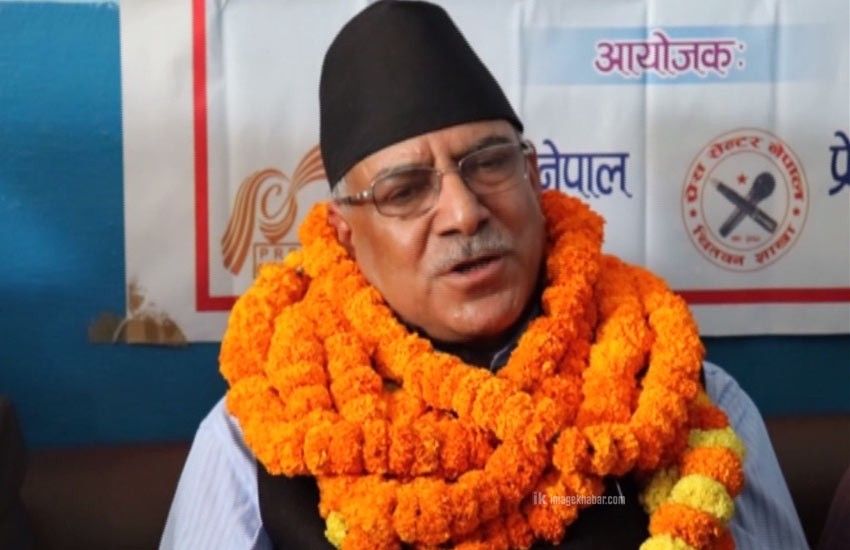 Speaking at a press meet organised by the Press Center, Chitwan here today, he said the issue is under discussion.
As he said, there is no debate over the unification issues between the two parties, but further discussions are left.
He went on to say that Prime Minister KP Sharma Oli and he would sit for talks tomorrow to fix the date for uniting the parties.
The Maoist Center Chair said both parties are not sure whether coming April 22 will be sufficient to complete all preparations for the party unification, adding that efforts would continue but there was no need to wait for more days for that.
In-depth discussions over the reports presented by two task forces have begun since yesterday and the chairmen of both political parties have been given the responsibility for sorting out some outstanding issues, he added.
The report presented by a taskforce led by Home Minister Ram Bahadur Thapa has recommended for further discussions on how to present the people's war and define the people's movement in party's statute after the unification, how to sort out issue of election symbol, and determine the structures of central committee, provincial committee and district committee in the modality of unification.
On a different note, he ruled out media reports about the dispute over power sharing issues in the unification process, adding that the unification would guarantee equal representation and respectable presence of both chairs and good people. He, however, admitted intra-party discussion about the prime minister's performance.
On the same occasion, Home Minister Ram Bahadur Thapa has said an end to syndicate in transport sector has already begun. He was of the view that none holds the right to earn unethical profit through syndicate in the operation of services.
Home Minister Thapa said the government is committed making the school enrollment campaign fully successful. The campaign dreams to see all school age children in schools.