UML and Maoist Centre working to give message of unification on Establishment Day
---
---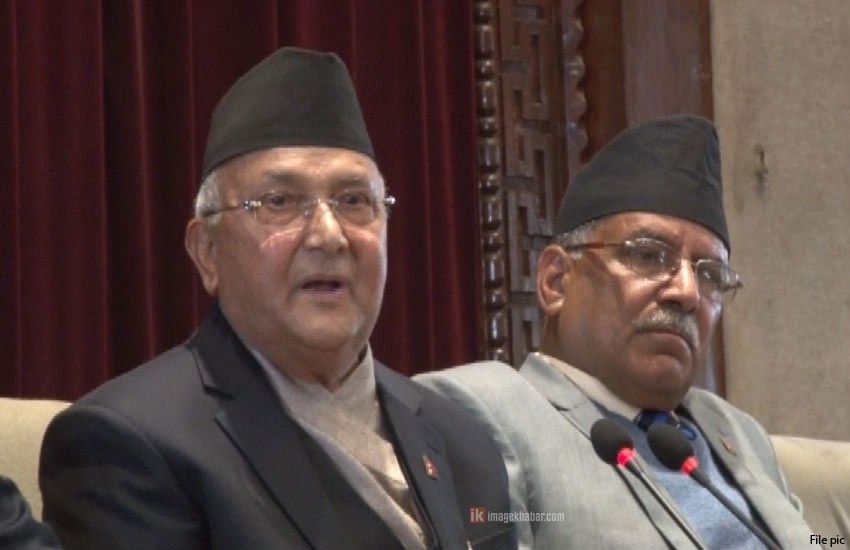 Although the two parties made untiring efforts to be unified on Sunday, they have decided to give a message of early unification without holding a formal unification announcement programme.
Secretary at UML Central Office Secretary Krishna Gopal Shrestha said, "The unification process is not terminated, it is unavoidable. It is just delayed for some time."
Both chairperson of the UML and MC would address a programme of the party unification coordination committee to be organized at the City Hall in the capital.
The process of unification between the two large communist parties was initiated before the elections. Common manifesto focusing stable government, good governance and development was prepared by them. The parties argued that the elections approved their unity mandate.
The top leaders- UML Chairman KP Sharma Oli and MC Chairman Pushpa Kamal Dahal 'Prachanda' – were assigned the responsibility to finalize the interim statute and interim political report prepared by coordinator a taskforce on organization, Madhav Kumar Nepal and coordinator of taskforce on ideological report, Ram Bahadur Thapa Badal.
The top leaders however have continued the discussion on a daily basis for the unification. They are suggested to announce the unification on coming May 1.
MC leader Dinanath Sharma said, "Both chairpersons have assured the unification within Baisakh. There is no point that the parties backtrack from unification now."
The issues to be agreed before the unification are organization ratio, analyses of people's war, forthcoming general convention and sharing of leadership.
Nepal Communist Party was established on April 22, 1949 under the leadership of Pushpa Lal against the backdrop of movement against Rana Regime.
The founders of the party are Niranjan Baidya, Narabahadur Karmacharya, Narayan Bilas Joshi and Moti Devi Shrestha.
Since then with various merger and split, the communist parties are in a dozen of number where the UML and MC are dominating the national communist front running their coalition government.