Indian PM Modi holds meeting with NC senior leadership
---
---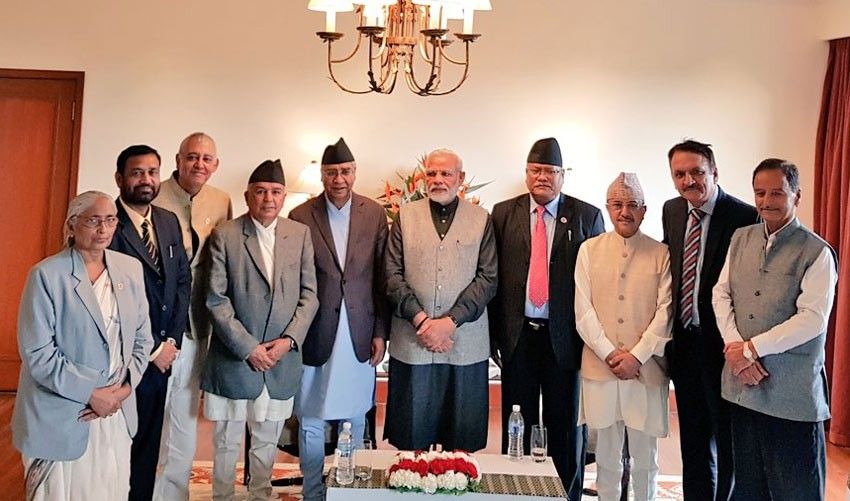 Kathmandu, May 12 (RSS): Visiting Indian Prime Minister Narendra Modi held a meeting with senior leaders of the main opposition Nepali Congress (NC).
PM Modi had the bilateral meeting with senior NC leaders including President and former Prime Minister Sher Bahadur Deuba, at Hyatt Regency Hotel this afternoon.
Following his worships at Pashupati Temple, Indian PM Modi had initiated holding political meetings at the hotel where he has been staying.
Present in the meeting were NC senior leader Ram Chandra Poudel, Vice-president Bimalendra Nidhi, General Secretary duo Dr Shashanka Koirala and Purna Bahadur Khadka, Treasurer Sita Devi Yadav, Joint General Secretary Dr Prakash Sharan Mahat, Bijaya Kumar Gachchhadar and Arjun Narsingh KC.
The meeting focused on the discussions about various aspects of Nepal-India relations.
Talking to RSS following the meeting, NC parliamentary deputy leader Bijay Kumar Gachhadar said the Indian Prime Minister's Nepal visit had further strengthened the bilateral ties.
The second Nepal visit by the Indian Prime Minister highlighted the religious tourism and religious relations between the two countries. He expressed his hope that the visit would help promote the religious tourism of both countries. According to him, matters relating to further strengthening the bilateral relations between the NC and Bharatiya Janata Party were also discussed.
During the meeting, party President Sher Bahadur Deuba thanked the Indian Prime Minister for India's support to Nepal's socio-economic development sector, as stated by party parliamentary deputy leader Gachhadar.
Stating that Indian Prime Minister Modi was well informed about Nepal, Deuba hoped for the further assistance and support from India for the prosperity of Nepal.
"Nepal is heading towards the path of political stability and economic development by enforcing the constitution promulgated on the political consensus," Deuba said.
On the occasion, the Indian Prime Minister advised political parties here to work in unity to materialise the dream of prosperous Nepal. Involvement of youths in the efforts meant for economic prosperity was also his suggestion for Nepal.
The Indian Prime Minister is busy in political talks and discussions on the second and last day of his Nepal visit.