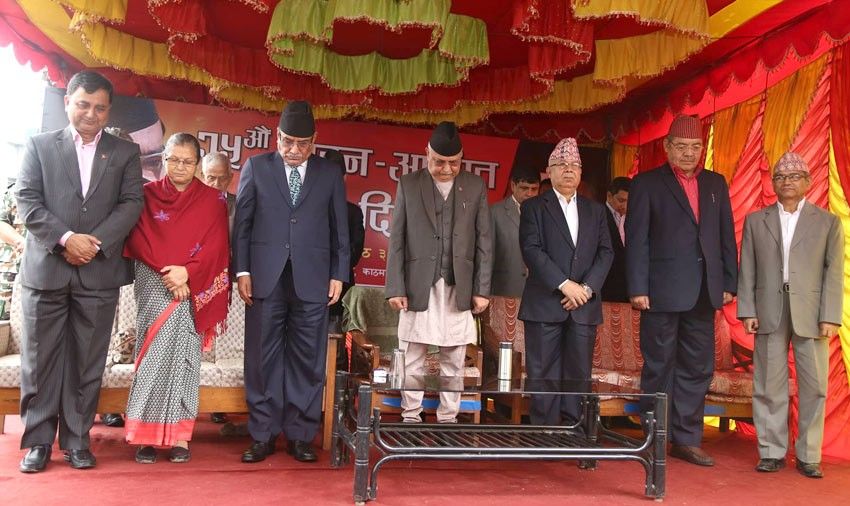 Kathmandu, May 17 (RSS): Prime Minister KP Sharma Oli has said that unification between CPN (UML) and CPN (Maoist Centre) is going to take place today.
At a programme organised by CPN (UML) on the occasion of 25th Memorial Day of Madan Bhandari and Jibraj Ashrit at Madannagar, Balkhu, today, Prime Minister Oli said the both parties are going to be united and it would never split again.
He said, "The new communist party after the unification would take the country to a new height. The unification between the two parties will affect in every angle of Nepal's political, social, present and future, economy and cultural height."
Appraising the contribution of Madan Bhandari and Jibraj Ashrit, the Prime Minister said that they are going for party unification on the occasion of memorial day of Bhandari and Ashrit. He further said that they would fulfill the dream of Bhandari —happy and self-respecting Nepalis through party unification.
Prime Minister Oli said that a new party would be registered at the Election Commission today after the joint central committee meeting of both parties made decision regarding party unification once the Party Unification Coordination Committee approved the unification.
He said, "We will not take the Nepali Congress as our competitor and move ahead taking it together for nation building."
Speaking in the same programme, CPN (Maoist Centre) chair and former Prime Minister Pushpa Kamal Dahal 'Prachanda' said that they were going to announce the party unification on the occasion of Madan-Ashrit Memorial day today.
He added that it was a historical day therefore they readied to achieve this occasion for the party unification.
He added that they were attributing the late leaders Bhandari and Ashrit after unifying the major communist parties in the country.
On the occasion, UML leader Madhav Kumar Nepal, Defense Minister Ishwar Pokharel, Home Minister Ram Bahadur Thapa among other leaders offered the floral tribute on the photographs of late leaders.
Then party general secretary Bhandari and chief of organization department Ashrit were killed in a jeep accident together this very day 25 years ago.