NPU celebrates 27th anniversary, NC to stand strong against anti-press attempts
---
---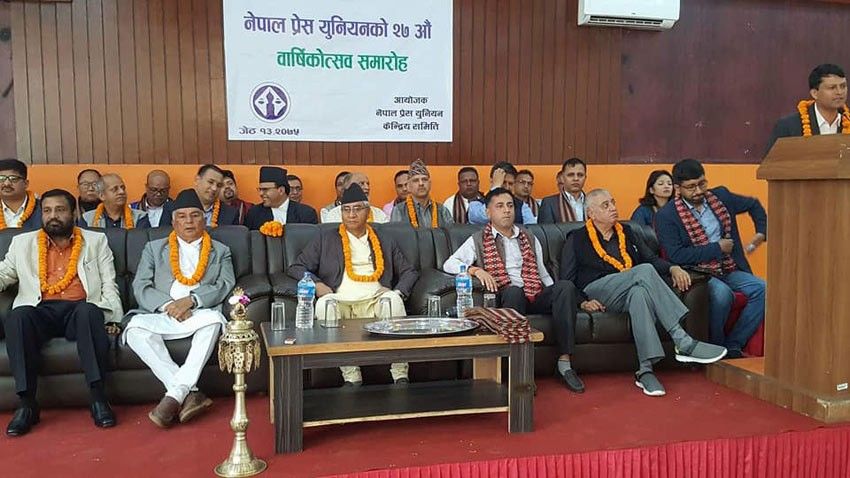 Kathmandu, May 27 (RSS): Nepali Congress President Sher Bahadur Deuba has said the NC would stand firm against any attempts of anarchy and totalitarianism in the country.
In his address to the 27th anniversary celebrations of the Nepal Press Union (NPU) here today, the former Prime Minister said, "(free) press is synonym of democracy and the party will strongly oppose if any attempts are made to keep it in a state of fear."
"Some win and some lose in the elections and it is the norm too," he said, adding that the party would move towards direction of party strengthening and reconstruction by assimilating its role as a constructive oppositional force in the parliament.
Also speaking on the occasion, party senior leader Ramchandra Poudel made it clear that the party would hit the street if any attempt was made against free press. Stating that the party would always stand in favour of democracy, inclusiveness, federalism and enforcement of the constitution, he urged NPU to confidently face any challenge against press freedom.
NC Vice President Bimalendra Nidhi, recalling the history about the formation of the NPU some 27 years ago with the participation of 17 journalists, said the same organisation has become of an umbrella body of all democratic journalists.
Accusing the government of devoting self to pleasing the neighours by sidelining the issues of federalism, inclusion and constitution enforcement, he claimed that 'cheap popularity' was the characteristic of the present government.
NC General Secretary Dr Shashanka Koirala said unity in party was his only concern of the hour.
Former Minister Dr Minendra Rijal, Vice Chair of Federation of Nepali Journalists ( FNJ) Bipul Pokhrel, Nepal Trade Union Congress Chair Khilanath Dahal, senior journalists Harihar Birahi, Taranath Dahal, Deepak Acharya, NPU General Secretary Ajay Babu Siwakoti, Press Center Nepal's Chair Maheshwor Dahal and Press Chautari Nepal's chair Ganesh Basent extended their best wishes on the occasion.
The NPU is an organisation of democratic media persons close to the Nepali Congress. It was established on May 27, 1991. JP Gupta is its founding chair.
Hari Adhikari, Ramesh Tufan, Rajesh Dhungana, Shirishballav Pradhan, Shobhakar Parajuli, Jagdish Ghimire, Kanhaiyalal Keshari, Rajeshwor Nepal, Ganesh Prasad Nepal, Taranath Dahal, Harihar Prasad Shrestha, Krishna Kandel, Yogesh Upadhyay, Yadav Thapaliya, Ramchandra Upreti and Ganesh Ballav were the founding members. Presently the Union with its branches nationwide has 13,000 members.