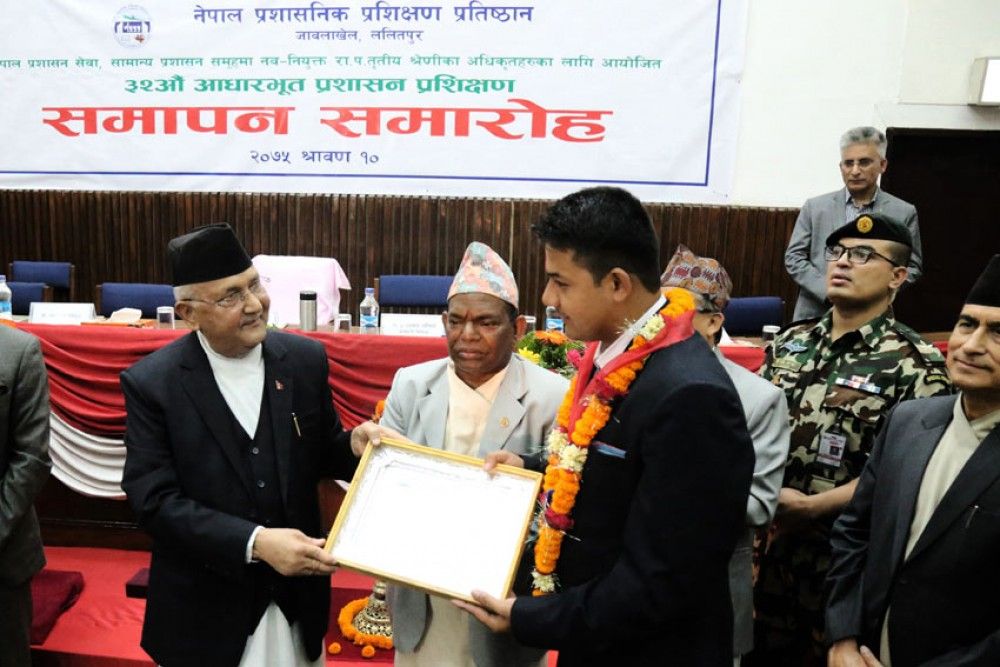 Kathmandu, July 26 (RSS): Prime Minister KP Sharma Oli today urged all ministers and civil servants to work with the commitment 'Our Nepal: We are Nepali, We are people's servants'.
Addressing a convocation ceremony held here to confer certificates on new civil servants (officer-level) who underwent six months basic training at the Nepal Administrative Staff College (NASC), the PM urged the new government employees to always maintain a fare and good character.
He also stressed the need for civil servants to help enrich the country by conserving and promoting culture, festivals, religions, caste, geopolitics and sovereignty of the country.
"Nepal has mines of iron, copper, uranium, and petroleum produces. But we are poor. We must implement the federal democratic republic, basis for taking the country out of poverty and backwardness," said Prime Minister Oli.
Saying he would hold discussion regarding further revision to NASC's curriculum in the days ahead, Prime Minister Oli directed civil servants to discharge their duty honestly as honesty is the source of success.
Similarly, Minister for Federal Affairs and General Administration, Lalbabu Pandit, Secretary Dinesh Kumar Thapaliya, and Executive Director of NASC, Punya Prasad Neupane, wished them a success in their future work.
Newly appointed 217 officers under Nepal Administrative Service and General Administration Service groups had undergone the training that started from January 18, 2018.
On the occasion, Dev Chandra Gartaula was honoured with 'the Executive Director Gold Medal' for his outstanding performance in the training.