Nepal to join league of developing countries within three years: Minister Baskota
---
---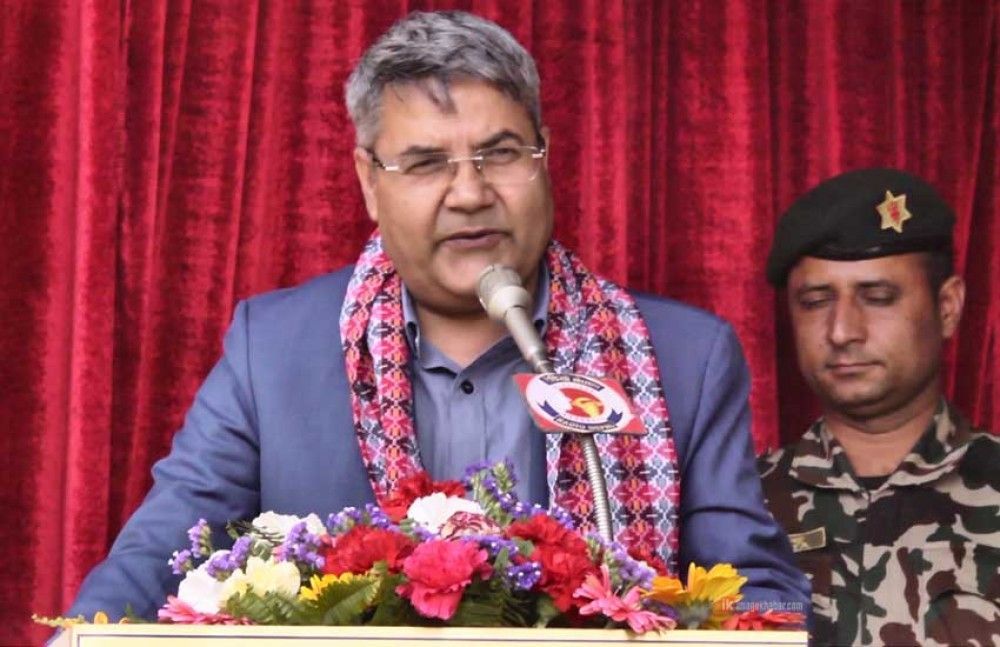 Minister for Communications and Information Technology, Gokul Prasad Baskota has claimed that Nepal would be enlisted in the list of developing countries in the next three years.
Addressing a festival greetings exchange programme organized by Nepal Communist Party (NCP) Banepa here today, Minister Baskota said Nepal would be enlisted in the league of developing countries within three years by expediting development works.
"Poverty has become a challenge for us. The government will bring programmes of employment creation, skill development, technical education and making the service sector effective to make life easy for gradually reducing poverty," he said, adding that the government would reduce the 18 per cent poverty gradually to boost the concept of 'Prosperous Nepal, Happy Nepali'.
Minister Baskota, who is also the government spokesperson, said the government was committed to the campaign of making Nepal beautiful, happy, autonomous and self-reliant.
Stating that the government was involved in nation building by bringing the people together and accepting the positive criticism, he asserted that it was also working in steadfast manner for the uplift of the economically vulnerable section of society and raise their economic status.
Minister Baskota said everyone who is marching towards the prosperous Nepal should not be deviated or be in confusion as the present time is the time of development.
"There would not be any let up in the government's campaign no matter whatever false publicity is made against it, Be assured of this," he said. He described the government's present year as the 'year of laying the foundation' and the coming year as the 'year of inauguration'. He argued that it would be wrong to seek results from the present government in a year's time while no results are sought from those who ruled the country for 22 years.
NCP has just perspective and is full of political willpower to carry out equitable development activities, claimed Minister Baskota. "Individual is responsible itself for any wrongdoing. Party is a sensitive organised institution with big significances," he said.
The party would work to carry out economic transformation and changes in the country and establish happiness, peace and socialism.
Preparations were underway to open knowledge transfer centre at local level, he said. Present on the occasion were State Assembly member Goma Bhurtel, Bnepa municipality mayor Laxmi Narsingh Wade and NCP leader Ram Hari Subedi among others