Deuba vows to take the party ahead as a united bloc
---
---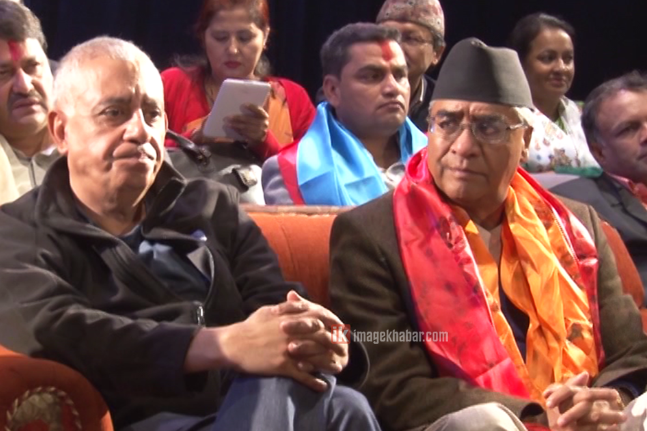 Kathmandu, March 16: Nepali Congress newly-elected president Sher Bahadur Deuba has expressed the commitment to steer the party ahead as a united whole ending factionalism.
Speaking at a programme organised by the Nepali Congress Kathmandu District Working Committee to extend best wishes and congratulations to the party's central president, office-bearers and members elected from the party's 13th general convention here today, Deuba said the need of the hour is to take the party ahead united rather than on power-sharing basis.
"Though the new constitution has been promulgated, the Madhesi community has grievances on the issue of federalism.
There is the need of resolving this for the implementation of the constitution and the NC should now take the leadership in this," he said.
Newly-elected party general secretary Dr Shashank Koirala said the winners' history is automatically written but the Nepali Congress should be able to write the history of the losers too.
"Before, it was the leaders who sought the party workers but now the party cadres are seeking the leaders.
The Congress should not be that type," he said. The newly-elected general secretary stated that political stability should be maintained under the NC's leadership while protecting the nationality.
The newly-elected treasurer of the party, Sita Devi Yadav, stressed on the need for the new leadership to maintain party unity, resolve the Madhes problem and fulfill the martyrs' dream.
Central member Prakash Man Singh urged the party leadership to pick up the right people rather than only nominate those who lost the election to the central committee member post for the sake of appeasement.
Singh also stressed on conducting the election of the party's different sister organisations urgently which has been put on hold for long.
Nepali Congress Kathmandu District Committee president Krishna Sabuj Baniya called for ending the trend of power-sharing within the party organisation. RSS