Agreement on fuel import with China will take place: Minister Pun
---
---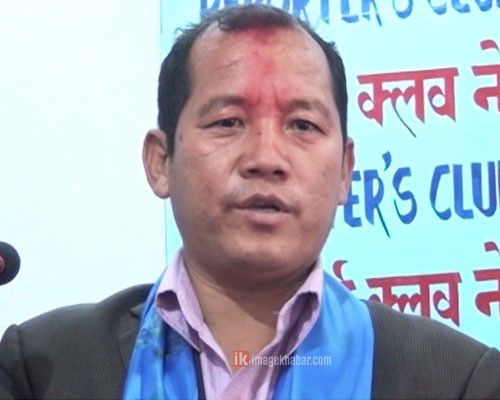 Kathmandu, March 18: Minister for Supplies, Ganesh Man Pun, today said an important base would be prepared during Prime Minister KP Sharma Oli's visit to China starting Sunday in regards a bilateral agreement for importing fuel products.
During an interaction programme at the Reporters' Club, Minister Pun claimed the agreement on importing fuel from China would take place and that it cannot be prevented by anyone or anything.
"All the preparatory works have been done, there are no reasons as to why it should not take place," Pun insisted, adding that the government will take decision by keeping the country and the people at the centre of interest. The preliminary agreement paper has already been signed, he said.
"I am confident the bilateral agreement on importing fuel will be signed," Minister Pun said. When the journalists questioned the Minister why he was not included in the Prime Minister's entourage heading to China if there were prospects for such an agreement, Minister Pun said it was not an important subject as to who was included and excluded.
Minister Pun pointed out towards the increase in the supply from India facilitating the availability of petrol in the market, and added that diesel supply would also ease in a day or two.
The Minister said a discussion has taken place between Nepali Ambassador to India, Deep Kumar Upadhyay, Supplies Ministry's high officials and Indian officials on increasing the import of fuel products to the country.
He confided of his personal effort to facilitate the import of more diesel.
The Indian Oil Corporation (IOC) has been supplying 90,000 kilolitres of fuel although the government has demanded a supply of 110,000 kilolitres. He said 250,000 kilolitres would be imported when the development works are in full swing.
The government's attention has been drawn towards the shortage of cooking gas in the market, Minister Pun said.
He added that 29,000 metric tons of gas was imported during the time from mid February to mid March and that the government has demanded supply of 33,000 metric tons of gas for the period between mid March and mid April.
The Minister further elaborated on the Ministry's plan to establish storage depots in all seven provinces. He said the government would meet the demand of developing the storage capacity to last at least 3 months as provisioned by the United Nations.
He said storage depots in Panchkhaal, Battar and Khaireni would be established with the support of the Chinese government and that study on the plan was underway. RSS
File Photo