PM Oli and British Prince hold talks
---
---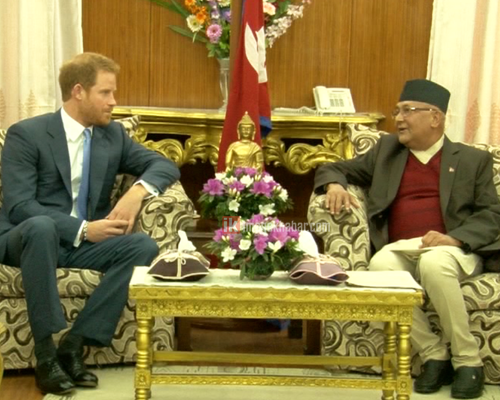 Kathmandu, March 19: Prime Minister KP Sharma Oli and the visiting UK prince, Henry Charles Albert David 'Harry', had a courtesy meeting at the Prime Minister's residence in Baluwatar this evening.
The meeting lasted for about 20 minutes and was focused on the two centuries old ties and friendship between the two countries.
During the meeting, Prince Harry talked about the wildlife, environment conservation, the Himalayas and the service of the Nepali people.
He especially mentioned about the contribution of the Gurkha soldiers in the British Army and thanked the Government of Nepal.
Sharing his experience of staying together with the Gurkha soldiers in the field in Afghanistan, Prince Harry said that the Gurkha soldiers had demonstrated highest level of bravery and valour, according to Bishnu Rimal, the Prime Minister's Chief Advisor.
Prince Harry said, "The Gurkha soldiers helped Britain even during the time it did not involve in war. For this I express my thanks and gratitude to Nepali people."
On the occasion, PM Oli thanked the British government and the people there through Prince Harry for continued assistance to Nepal's development, despite being a geographically remote country.
He also thanked Britain for the assistance on rescue and relief distribution to the Nepalis affected by the devastating earthquakes, Rimal informed the media.
Moreover, PM Oli expressed happiness over the UK's welcome of Nepal's federal democratic republican constitution promulgated through the Constituent Assembly.
The relations existing between Nepal and Britain for 200 years would be further strengthened, he believed.
Prince Harry arrived in Nepal on a five-day official visit Saturday afternoon.
He, the representative of the British Queen, arrived in Nepal to make the two-country relations more memorable on the occasion of the bicentenary of the diplomatic ties between the countries.
It is his first visit in Nepal at the invitation of Nepal government. British Queen Elizabeth had visited Nepal in 1961 and 1986.
Prince Charles, then Princess Diana and Prince Philip had also visited Nepal.
Nepal is the first country in South Asia to establish diplomatic ties with Britain. RSS