UK Prince busy in rafting and jungle safari in Bardiya
---
---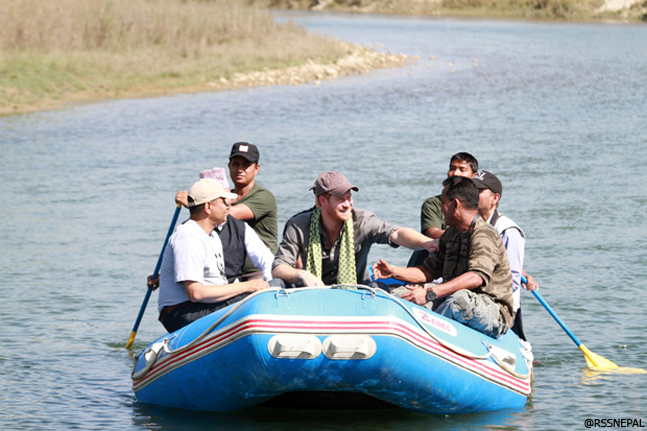 Bishnu Nepal
Bardiya, March 21: British Prince Henry Charles Albert David 'Harry' this morning reached the Bardiya National Park where he went on a rafting expedition and observed the vast multitude of wild life.
The British Prince went on a mountain flight on a chopper before descending down to Bardiya. He boarded the raft for at least 40 minutes travelling from Gaindamochar Post to Baghaura Phant. Later he went on a jungle safari travelling on foot for at least half an hour.
The tiger trapping cameras this time captured Prince Harry's gait through the forest.
He was elated to see the video of his tiger-like gait in a laptop. The tiger trapping camera installation work which started in the 1990s completed in 2000. A total of 300 cameras have been set up in the jungle.
The technical teams from the Bardiya National Park and the World Wildlife Fund (WWF) briefed the Prince on the tiger trapping camera technology.
There are a total of 50 tigers within the Park, Assistant Conservation Officer, Ashok Bhandari said.
Prince Harry clad in a pair of jeans, shirt and a muffler delighted in observing the wildlife.
Prince Harry, who has special interest in nature, environment, mountain and wildlife, also enquired about various aspects of Bardiya National Park during his observation.
Especially, elephants, rhinos, tigers and birds of 250 species are found in the park, spread on around 1000 square kilometers of area.
The World Wildlife Fund has been providing financial and technical support for the protection of the Park.
Some 10,000 foreign tourists visit the Park every year. Elephants kept at four different places of Park had welcomed the Prince. 'Welcome to Harry in Nepal' was written on the body of the elephants.
After visiting the Bardiya National Park, Prince Harry also enjoyed home stay at Surya Patuwa VDC in the district. On the occasion, cultural Tharu dance and pageants was shown.
Prince Harry has arrived Nepal on March 19 on a five-day visit on the occasion of bicentenary of the establishment of Nepal-UK diplomatic relations.
He will spend the day today and tomorrow in Bardiya, Lamjung and Pokhara. RSS