Science and technology crucial for economic development: PM Oli
---
---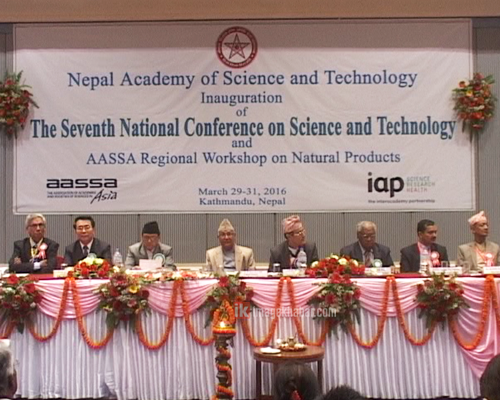 Kathmandu, March 29: Various speakers have expressed concern over the impacts on bio-diversity due to the rapidly growing climate change.
They expressed such concern at the Seventh National Conference on Science and Technology organised here today by the Nepal Academy of Science and Technology (NAST).
The theme of the three-day conference is – "Science, Technology and Innovation for Nepal's Graduation to Developing Country Status."
Inaugurating the conference, Prime Minister KP Sharma Oli said that science and technology is supporting sector for the economic development of the country.
Stating that many of the countries in the world have made rapid progress in science and technology, Prime Minister Oli said that the developing countries should take their step in the sector of science and technology, otherwise they would lag in development.
He said that the government was ready to give priority to the development of science and technology sector and expressed the belief that the conclusions of the conference would be effective.
The Prime Minister also expressed hope that the government would also receive some suggestion regarding the works to be carried out after the earthquake, saying that the government has started reconstruction of infrastructures damaged by the April 25 earthquake.
Similarly, Minister for Science and Technology, Shivalal Thapa, said that science and technology played a big role for the economic development and added that the government has also given stress on its development.
Stating that the issue of climate change is a complex matter of concern to all, NAST Vice-Chancellor Prof Dr Jiba Raj Pokharel, expressed the view that there should be collective efforts to fight climate change.
Academician of NAST, Prof Dr Govinda Raj Pokharel, said that the vast bio-diversity, immense potentials of agriculture, tourist-friendly weather and conducive environment for investment have reinforced each other for achieving economic prosperity.
Chairman of Association of Academies and Societies of Sciences in Asia (AASSA), Prof Krishan Lal said that Nepal ahs also achieved better progress in the sector of science and technology while Prof Dr CNR Rao of Jawaharlal Nehru Centre for Advanced Scientific Research, India, said that they wanted to see Nepal graduate from the least developed country to the status of a developed country.
Similarly, Prof Dr Bai Chunli, President of Chinese Academy of Sciences, said that the science and technology has made Nepal-China relations strong.
On the occasion, Prime Minister Oli honoured Rao and Bai Chunli.
Some 1,000 scientists and technologists across the country as well as from 17 countries are participating in the conference. Some 600 working papers will be discussed in course of the conference, it is learnt. RSS