Govt serious for reconstruction projects: PM Oli
---
---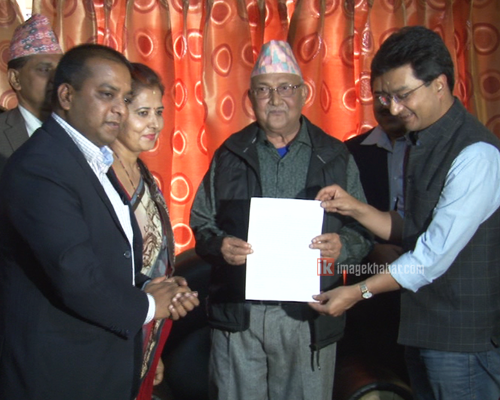 Kathmandu, April 2: Prime Minister KP Sharma Oli has said that the government was serious for expediting the post-quake reconstruction projects.
While receiving a memorandum submitted by the Nepal Women's Association, Nepal Tarun Dal and Nepal Students Union, PM Oli said that that the government was serious in reconstruction projects and controlling the black-market.
The organizations submitted the memo calling upon the Prime Minister's intervention in controlling the black-marketing and expediting the reconstruction projects.
PM Oli accepted that the government was unable to provide prompt performance though it was willing for the same. He however said that the government could not tolerate the irregularities of the supplies during the normal situation.
Dismissing reports that the government amended existing laws in order to give leeway to those promoting and involving in black marketeering as false, PM Oli clarified that amendments to any law or issuance of any ordinance will be done in coordination of opposition political parties.
He also said that consultations between all political parties were necessary with regards to the post-quake reconstructions as the position of chairman of the National Reconstruction Authority is occupied by Prime Minister and opposition political party leader is its vice chairman.
He said that the government will not shy away from its responsibility to complete post-quake reconstructions despite challenges involved.
He also said that the government is doing its best to provide safe settlements to the quake survivors before this year's monsoon.
On the occasion, Nepal Women Association Chairperson Dr Dila Sangraula, Nepali Congress's youth wing Nepal Tarun Dal President Udaya Shamsher Rana, NC's student wing Nepal Students' Union President Ranjit Karna drew attention of the Prime Minister towards controlling thriving black marketeering and corruption and to expedite the post-quake reconstructions. RSS