President observes Ghode Jatra celebrations
---
---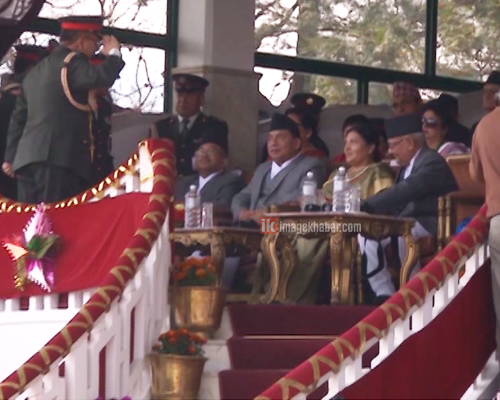 Kathmandu, April 7: President Bidya Devi Bhandari Thursday observed the Ghodejatra celebrations held at the Army Pavilion in Tundikhel marking the Ghodejatra Festival.
Ghode Jatra is a traditional festival celebrated only in the capital.
On the occasion, the NA personnel performed various equestrian skills including Trick Rider, Taagan and Charger Race, Sword Jump, Show Jump, Tent Peking, Cross Tent Peking, Lance Hit Pack, Lance and Ring, Sword and Apple, Drill Ride, Musical Ride, Vaulting Exercise, Horse Ball, Cross country and Fixed Jump, Hungarian Post and Fire Jump along with the cycle races.
President Bhandari, who is the Supreme Commander of the Nepal Army, gave away awards to the winners and runners up of show jump and musical ride competition.
Vice President Nanda Bahadur Pun, Prime Minister KP Sharma Oli, Chief Justice Kalyan Shrestha and Speaker Onsari Gharti were also present to observe the Ghodejatra celebrations.
Also present were the Deputy Prime Ministers, ministers, chiefs of constitutional councils, government high –ranking officials, chiefs and representatives of diplomatic missions, heads of security agencies and dignified personalities from different walks of life.
Commoners thronged the Tundikhel to observe the Ghodejatra celebrations that kick-started from 15:00 pm.
The festival reflects the age old relations between the human and horse.
There is also a belief that a demon called Gurumapa dwelling on a tree at the south-east corner of Tundikhel afflicted the city dwellers and killed children.
So, the people killed the demon, but could not feel safe thinking the spirit of the demon would haunt them again. With this, they were for taming the spirit of the Guramapa demon by trampling with horse hooves.
The festival is continued carrying the significance from the same belief.
On today night itself, the Gurumapa is offered rice near the tree on the south-east corner of Tundikhel.
The government had announced a public holiday in the capital today to observe the Ghode Jatra. RSS