Government works concretely to honour martyrs: PM Oli
---
---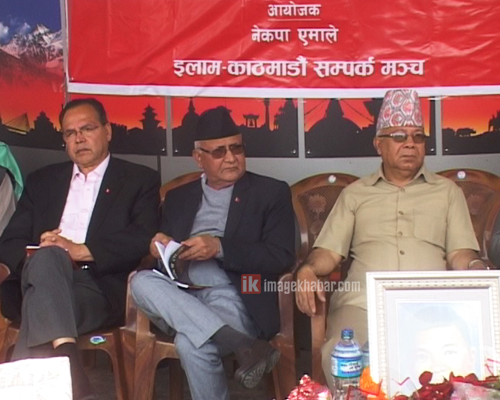 Kathmandu, April 9: Prime Minister KP Sharma Oli has said the incumbent government would carry out a concrete plan about the issues of martyrs as a study committee was formed for the same.
Speaking at a programme organized by the CPN (UML), Ilam-Kathmandu Liaison Forum on the occasion of 37th Memorial Day of martyr Ratna Kumar Bantawa at the party headquarters today, PM Oli who is also the chair of the party reminded that Martyr Bantawa had fought against the party-less Panchayat system.
He said Bantawa has recently been declared as the martyr after 37 years of his sacrifice. The government on March 2 this year had declared 22 democracy fighters including Bantawa as the martyrs.
PM Oli further said Bantawa like other freedom fighters was not included in the martyrs' list, for the previous mechanisms arbitrarily declared the martyrs. It lacked objective study on martyrs, he argued.
In view of this background, a committee was formed recently under the chairmanship of the Deputy Prime Minister and Minister for Defence the objective evaluation of the democracy fighters.
On the occasion PM Oli released a book titled Purbako Rato Tara (A Red Star from the East) penned by party general secretary Ishwar Pokharel. The book is about the struggle of the martyr Bantawa.
Speaking in the same programme, party senior leader and former Prime Minister Jhalanath Khanal said the Panchayati system and monarchy were abolished as the repercussion of the killing of Bantawa and similar other freedom fighter.
Another party leader and former Prime Minister Madhav Kumar Nepal said martyr Bantawa sacrificed his life for the betterment of the society.
He added the task of declaring martyrs is sensitive. Therefore, it should not be declared arbitrarily.
Leader Nepal urged the government to implement the report prepared by notable literary figure and cultural expert Modnath Prashrit in this connection.
Becoming nostalgic of Bantawa, party general secretary and writer of the book Ishwar Pokharel shared that he penned the book as he had unforgettable camaraderie with Bantawa.
Another speaker at the programme, former speaker and party leader Subas Nembang praised the contribution of Bantawa for the development of the leftist movement in Nepal.
Likewise, In-charge of the Mechi Zone of the party Hikmat Karki opined for developing Bantawa's birth place, Chamaita Chitre of Ilam, as the touristic place.
Bantawa was killed by police at Ivang of the district on 9 April 1978. RSS