PM Oli confers rank insignia to officer cadets
---
---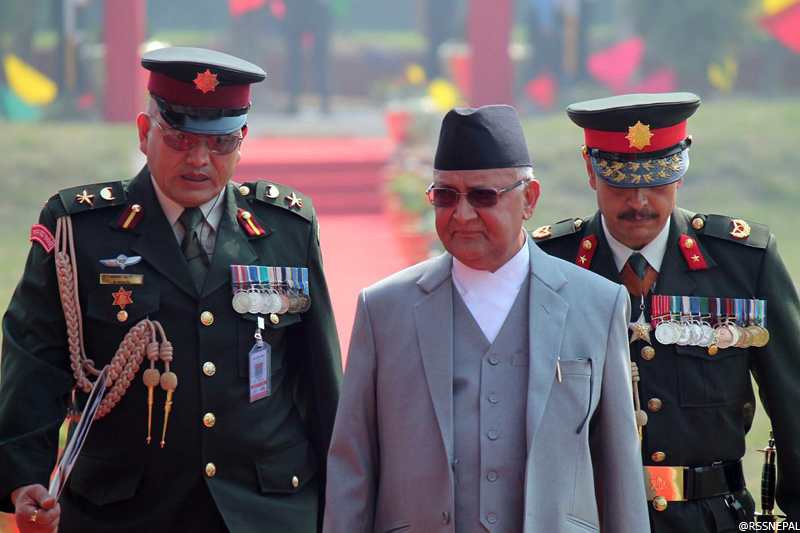 Bhaktapur, April 11: Prime Minister KP Sharma Oli today conferred rank and appointment insignia to army cadets graduating from the military training amidst a ceremony held at Nepal Army Academy, Kharipati in the district.
A total of 107 cadets including 10 women graduated from the Batch 54 Officer Cadet Training while 26 cadets including a woman graduated from Batch 44 Rank Officer Cadet Training.
Delivering a keynote speech on the occasion, PM Oli said Nepal Army was working to defend nation, nationality and sovereignty and safeguarding the territorial integrity by remaining within the bounds of the constitution and under the government's aegis and instruction.
The PM pointed out that the national army by including foreign nationals as trainee cadets had placed the humane brotherhood and army's equal duty on a single platform.
Urging the NA to always remain committed to Nepal and Nepali people with heart, word and deed, PM Oli expressed belief that the army, able to defend and serve democracy, would tread the path of duty in understanding of the time and situation.
"Nepal Army is the pride of Nepal and Nepali, and the army has helped us in every scenario of grief and remained committed to the people by embracing each other's shoulders," PM said.
He said the Nepal Army – which has been successful in keeping its head high in the national and international community – is a common property of Nepali people. "The fame of Nepal Army – deployed for peace keeping missions in many countries under the United Nations – is spread across the world," PM Oli asserted.
On the occasion, Prime Minister Oli commended the NA for its search and rescue operations carried out in the aftermath of the massive earthquake which struck on April 25 last year.
The Batch 54 Officer Cadet Training was participated by three foreign officer cadets – one each from the Maldives, Kenya and Nigeria.
Ashish Gurung of Batch 44 Officer Cadet Training and Batch 55 Junior Under Officer Rank Officer Cadet Training, Nar Bahadur Namjali, were conferred the 'Sword of Honour' at the ceremony.
Meanwhile, 'Cane of Honour' in women's category was conferred to Junior Under Officer Cadet, Shruti Kunwar while Nigerian Officer Cadet, Babatola Gabriel, was conferred the 'IOC Khukuri of Honour' for being the best among the foreign cadets. RSS