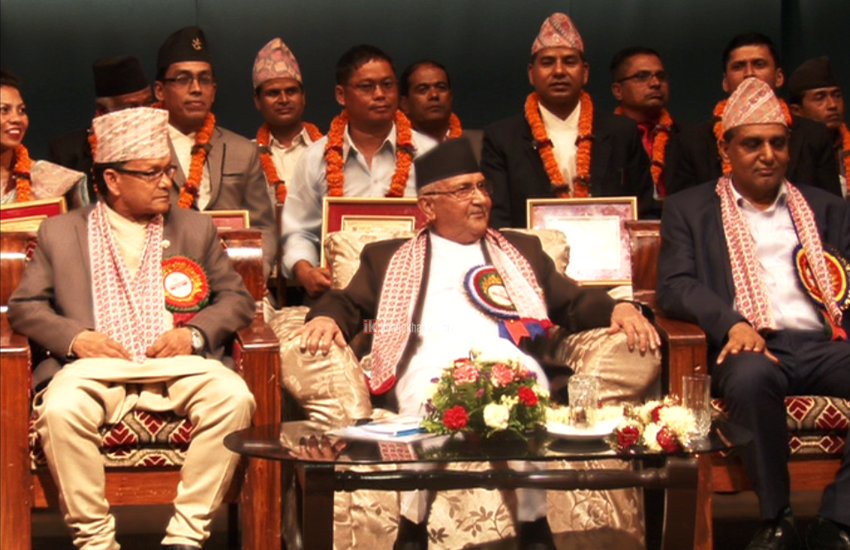 Prakash Silwal
Kathmandu, July 27: "To what regions has the joy emanating from my resignation spread?" Is it within the country or outside?" Prime Minister KP Sharma Oli questioned here today.
"It is ok for one can rejoice but one should not be in the illusion regarding the bad omen hidden beneath this happiness," the PM added.
PM Oli, who resigned from his post on July 25, added further, "This is not the time to visit the big guys of the society with goat's cooked dishes to receive Tika in Dashain, this is 21st century. The beautiful Nepal will move forward on path of prosperity by facing all hurdles." Some Indian media outlets had disseminated news by expressing joy at PM Oli's resignation.
The PM made the remarks after conferring literary and cultural awards to around three dozens of artists at a programme organized by the Ministry of Culture, Tourism and Civil Aviation.
Characterizing Nepal as the country of poets and talents hidden in the Nepali households, PM Oli added that the country had woven a glorious narrative of pride and independence by not allowing anyone to 'climb on its shoulders'.
PM Oli said it was unfortunate that Nepal could not achieve a rhythmic development in par with Nepali society's beauty, and expressed concern over the prevailing situation where anyone could 'sometime disturb the society by injecting a needle and fuel the people's sentiments'.
The PM was reminiscent of the song penned by national poet Madhav Prasad Ghimire 'Yo Nepali Shir Uchali, Sansarma Lamkancha (this Nepali will move ahead in the world with head held high)'. "Even if our leaders do not sing this song, it would be good if they remembered it in their hearts," PM Oli shared.
The PM's remarks were greeted by a thunderous applause of those present at the Nepal Academy's auditorium.
Talents awarded
Those honoured with this year's the National Talent Award are Prof (Dr) Krishna Bahadur Thapa in culture, Bishnu Bhakta Phuyal in music and drama, Ajit Kumar Shah in fine arts and Saroj Kumar Oli in language and literature field. The award carries a purse of Rs 100 thousand each.
Similarly, the Regional Talent Award were conferred on five talents each from the five development regions of the country in three genres.
Likewise, Dr Hansapure Subedi was conferred with the Mahakabi Devkota Award in children's and folk literature, Hemnath Poudel in essay genre, Maya Thakuri in fiction poetry and Megh Raj Nepal (Manjul) in poetry. The award carries a purse of Rs 100 thousand each.
The Bhagat Sarbajit Human Dignity National Award, instituted from this year, was conferred posthumously on Padma Singh Bishwakarma towards the Dalit liberation movement, on Padam Sundas towards artisanship and culture and on Dr Modnath Prashrit towards social reform.
Minister for Culture, Tourism and Civil Aviation Ananda Prasad Pokharel said the awardees were nominated from among the applicants and those recommended by a selection committee comprising experts. RSS