Nepal-Japan mark 60th anniversary of diplomatic relations
---
---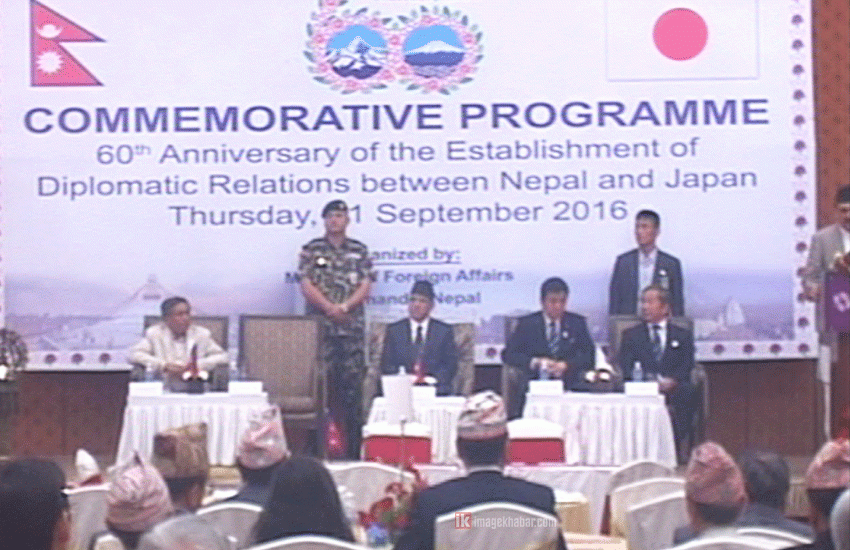 Kathmandu, Sept 1: A special ceremony was organised here today to mark the 60th anniversary of the establishment of diplomatic relations between Nepal and Japan.
Prime Minister Pushpa Kamal Dahal inaugurated the ceremony in the presence of the Members of the Council of Ministers, visiting Japan's State Minister for Foreign Affairs Nobuo Kishi, heads of diplomatic missions and Nepal's development partners, high-ranking officials of Nepal Government, Nepali diplomats and dignitaries.
On the occasion, Minister for Information and Communications, Surendra Kumar Karki, and the Japan's State Minister jointly affixed the first cancellation mark on a commemorative postage stamp issued by the Postal Services Department on the occasion of the diamond jubilee of the establishment of Nepal-Japan diplomatic relations.
Addressing the ceremony, Minister for Foreign Affairs, Dr Prakash Sharan Mahat, said Nepal-Japan relation based on mutual trust and cooperation is very cordial. He praised the Japanese government for its continuous support to Nepal's social and economic development endevours.
Japan's assistance to infrastructure development, modernisation of agro sector, human resource development, air safety, school reform sector and other socio- economic development was always commendable, he said, adding that cultural and historic linkages have connected both the countries.
"Japan, which is Nepal's reliable and the major donor partner, has achieved tremendous development in science and technology and has an impressive record in economic development sector," the Foreign Minister said.
He went on to say that Nepal and Japan are not limited to bilateral framework.
The Minister noted that both countries have interacted closely through the regional forum of SAARC, to which Japan is an important observer country. "Besides, both countries have close collaborations in the United Nations peace keeping missions," he added further.
Nepal, Japan all-time friends
Recalling Japan's immediate humanitarian and emergency services during last year's earthquake in the country, the Foreign Minister said the prompt dispatch of relief and rescue teams and emergency relief material was a testimony of close friendship between the two countries.
"Nepal and Japan are friends in happiness and sorrow," he said, while expressing his hope for more and large-scale support from Japan in coming days to the country struck by the earthquake.
He said an increase in economic activities was possible through expansion of trade and investment while stressing on the need of an easy access of Nepali products to the Japanese market.
Japan's State Minister for Foreign Affairs Kishi pledged Japan's all possible support to the holistic development of Nepal.
Nepal's majestic mountains and natural bounties and its people have always touched the hearts and minds of the Japanese, he said. The people of Japan take Nepal as their major tourist destination.
Nepal had sent 5,000 blankets to Japan few years ago during the major earthquake there, he said, adding that "Both countries are all-time friends."
On the occasion, artists from Nepal and Japan presented cultural programmes of both countries. RSS