School dropouts found selling fish in market
---
---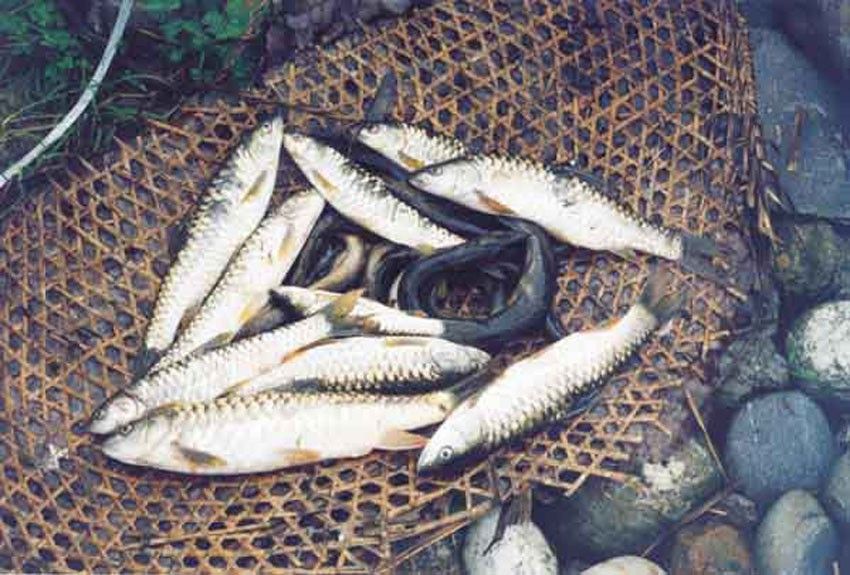 Khotang, Sept 5: These days Gyan Bahadur Rai is spotted fishing along the banks of the Dhudkoshi river and selling it in marketplaces in the evening following his disillusionment with the Simle Secondary School or rather the general education system of the country.
The 15-year-old high school dropout from Jaleshwori VDC – 4 located at the northern rim of the district did not even complete Grade 7. He is now seen with friends and fishing nets and other fishing gear in the river.
As the school continues to run its regular course of classes, Gyan Bahadur along with 18-year-old Sujan Rai and 17-year-old Tara Rai have trained their concentration and determination on catching fish.
When they should have been attending regular classes in school, they spend the day with lures, nets and other fishing gear in ready position. As the night falls, they haul the net in and rejoice and cheer for the day's game. And then of course, they head to the marketplaces to earn cash.
Most of the children enrolled in the schools of Batase area have also taken to fishing to generate the expenses needed to buy copy, pen and uniform.
Tara says the decision to trade education for business was based on the fact that there was no real guarantee that they will get employment by completing their education. "There is no guarantee that we will find employment after studying," Tara said, adding "So we abandoned our study."
Many are forced to leave their schools due to poor economic background of their families. Sujan and Tara dropped out of Grade 9. Local villagers say that 10 to 12 students are seen heading towards the river on a daily basis carrying lunch, mattresses and other materials.
Simle Secondary School's Principal, Nir Kumar Kattel, confided that it was a matter of concern as the number of students leaving their schools was increasing every year. Although their parents have been consulted the students just do not want to come back, Kattel added.
A student earns a monthly profit of Rs 20,000 to 22,000 by selling fish. Sujan said they use the money to buy daily essential commodities for running their household chores and buying food. On the other hand, consumers have acknowledged the fact that the fishes found in Dhukoshi are particularly tasty. RSS