Lawmakers opine for incorporating spirit of all people in constitution
---
---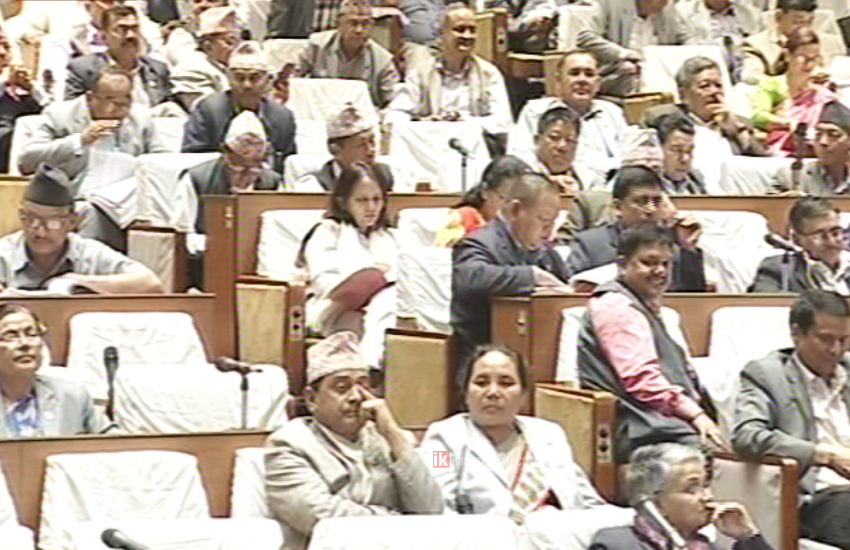 File Photo
Kathmandu, Sept 5: Lawmakers have opined for incorporating the spirit of all parties for the implementation of the constitution adding that the constitution was not a holy scripture, however it could be amended to meet the genuine demands of all.
Speaking in today's meeting of the parliament, lawmaker, Arjun Prasad Joshi ruled out the issues raised by the opposition party in internal affairs of the nation.
Similarly, Ramhari Khatiwada urged all to think being Nepali rather dividing into Madhesi, Hilly, ethnic and others for the implementation of the constitution. He even stressed on holding local bodies' election soon.
He further urged to inform the parliament if the Prime Minister had written a letter to his Indian counterpart otherwise this issue should not be over politicized.
Likewise, lawmaker Sher Bahadur Tamang complained over dillydallies for providing the grants to the quake survivors. He urged the government to implement the effective measures to provide the grants to the quake survivors soon.
Lawmaker Shyam Shrestha also urged the government to reach the grants to the quake survivors adding that over two dozens of settlements in Ramechhap district should be shifted to the safer zone.
Lawmaker Dilanath Giri blamed the government saying that it failed to be accountable to the people.
Similarly, lawmaker Yogendra Chaudhary opined for amending the constitution to bring the dissenting Tarai centric and ethnic based parties into consensus.
Lawmaker, Sarbendra Nath Shukla said that the report prepared by the State Restructuring Commission failed to hold discussions with concerned groups adding that it has created disputes from local level to the parliament.
Speaking in the same meeting, lawmaker Prem Suwal urged to make the letter sent by the Prime Minister to his Indian counterpart public. He alerted the Prime Minister not to take any decisions against the nation and people expressing the confidence for the same.
Lawmaker Meena Pun also complained over delay dallies for the beginning of the construction tasks of the Upper Karnali Hydro project. Lawmaker Ram Narayan Bidari objected the absence of Minister for responding the query of lawmakers.
Lawmakers also urged to resolve the disputed issues surfaced on the change of grammatical pattern in Nepali language, particularly on its spelling and arrangement of the alphabets.
Lawmaker Chhaya Sharma and Janakraj Joshi urged the Education Minister to respond the issues as it was creating confusion and trouble to the language users. RSS