PM Dahal consults with former government heads about India visit
---
---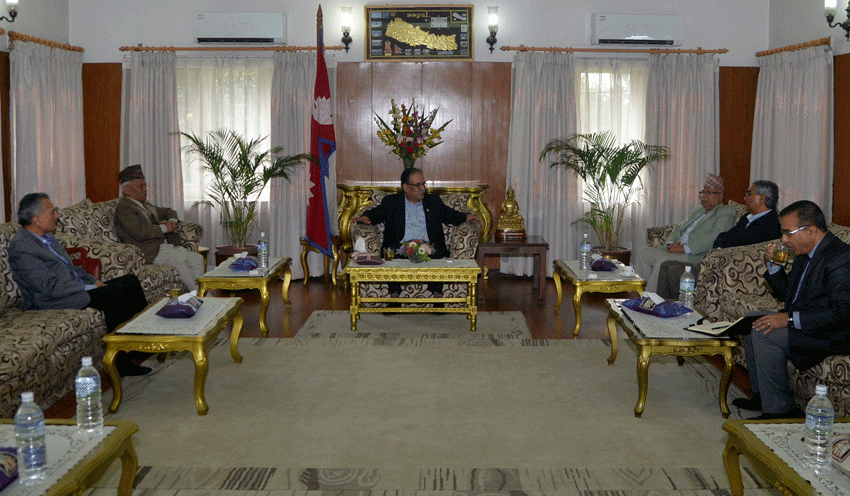 Kathmandu, Sept 13: Prime Minister Pushpa Kamal Dahal has consulted with former Prime Ministers about his upcoming India visit. The Prime Minister is scheduled to embark on the state visit to the southern neighbour coming Thursday.
During his meeting with the former heads of the governments at the Prime Minister's official residence, Baluwatar today, PM Dahal was urged to utilise the visit as an opportunity to take the bilateral relations to a new height and ensure the enforcement of bilateral treaties and agreements.
Stating that Nepal and India, the close neighbours, have age-old and intimate relations, they expressed their hope that PM Dahal's visit would be successful in further consolidating such bilateral ties.
Former Prime Ministers Sher Bahadur Deuba (Nepali Congress President), Dr Baburam Bhattarai (Naya Shakti Party coordinator), Madhav Kumar Nepal (CPN-UML leader) and Lokendra Bahadur Chand were summoned to Baluwatar by PM Dahal for consultations ahead of latter's India visit.
Talking to media persons after the meeting, NC President Deuba said during the meeting he suggested the PM for focusing his India visit on taking the bilateral relations to a new height in the present changing scenario. He stressed the need of effective enforcement of the past bilateral agreements.
Similarly, CPN (UML) leader Nepal said his party had already given suggestions to the Prime Minister regarding his upcoming India visit. The PM's visit should be centered on boosting up dignity of Nepali people along with bringing bilateral agreements related to transport and energy into force.
Naya Shakti Party Coordinator Dr Bhattarai said he had already given a 10-point suggestion in writing to PM Dahal regarding his India visit.
CPN (Maoist Center) Chair Dahal who was elected to the post of Prime Minister on August 3 through the Legislature-Parliament with the support of Nepali Congress is embarking on a four-day India visit beginning from September 15.
During his visit, he is scheduled to meet the Indian President, his Indian counterpart and other high-ranking officials there. RSS