New Parvati cave found in Deupur
---
---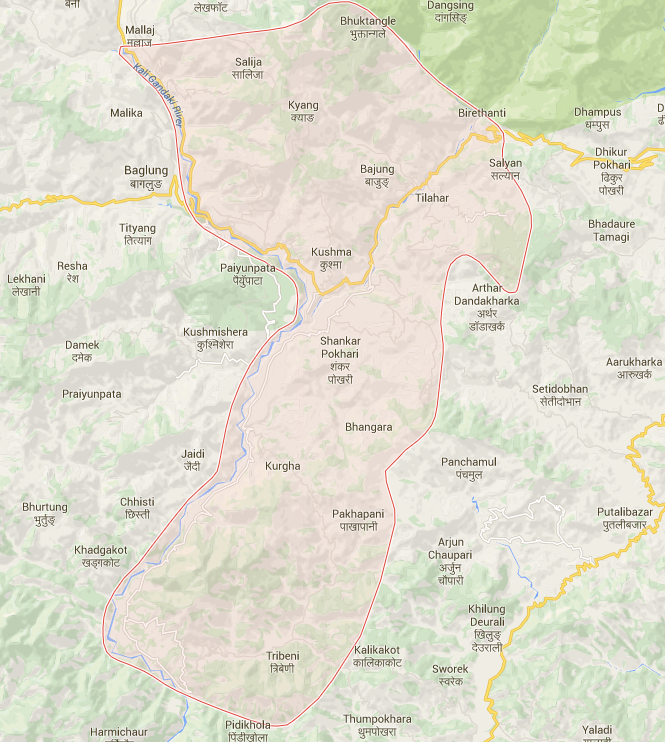 Parbat, Dec 13: A peculiar cave has been discovered at Deupur VDC – 5 along the Pokhara – Baglung highway.
The locals of Deupur came across the cave located at the bank of the Ghatte river of Tappu village. The villagers already knew about the cave but only on Saturday did they access the cavernous space inside and the vastness took them by surprise.
They also discovered peculiar but attractive images and artworks, local teacher, Bhumi Raj Sharma said. "We had been told before that there is a cave in the village, but we had not accessed to the depth and inspected like this," Sharma said, adding, "We have found enticing images that draw at our hearts."
The attractive images made out of limestone will attract domestic and external tourists.
The teachers and students of Jananetra Secondary School have been on an errand to search for spots and locations resonating tourism possibilities and in course of this search they came across the cave.
According to information coming from the locals, the Parvati cave, which is the name by which the newly found cave is identified, has two openings.
The lower portion is narrow and has to be widened to facilitate people's entry into the cave.
There are also many patterned boulders of various images. The local villagers claim to have reached 15 metres inside the cave.
The upper portion of the cave is reported to be wide and sprawled out towards all corners. The spot has the capacity to accommodate hundreds of people.
The cave is located near the Pokhara – Baglung highway and definitely has the possibility of becoming a tourist destination with adequate publicity, another local teacher, Surya Prasad Sharma said.
The teacher added that the cave's structure and nature is unique and mesmerizing as compared to his experience of other caves.
Meanwhile, Adarsha Primary School's teacher, Narayan Prasad Poudel, said that he had visited the cave seven years ago with his students, but only reached the depth of 10 metres as it was dark inside. Poudel was of the opinion that the cave can be a lot deeper than it seems.
The locals say that the images found inside the newly discovered cave resemble that of the images found in Parbat's famed pilgrimage sites – the Gupteshwor and Alapeshwor caves. RSS