Parliament gets down to business after long
---
---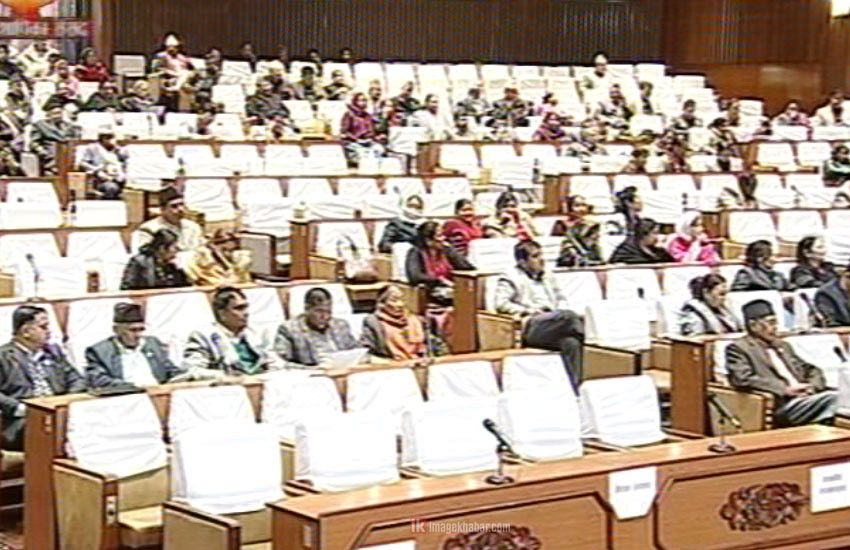 The parliament meeting today proceeded smoothly as the opposition parties did not obstruct its business unlike they had been doing so from November 29, 2016 the day the government registered the constitution amendment bill until it was tabled in the parliament on Sunday.
Nine opposition parties including the main opposition CPN (UML) had been blocking the House business in protest against the amendment bill saying it was against the national interest. The bill was tabled in the Parliament on Sunday despite vehement protest by the opposition parties in the parliament.
There is a provision for providing 72 hours to lawmakers for registering additional amendments on the amendment bill.
Lawmakers demand declaration of date for local polls
Lawmakers speaking in the special hour of the parliament session today have drawn the attention of the government to announce the date for local polls, resettle the quake survivors and to provide the compensation to the people who were affected by the road extension.
Lawmaker Ramhari Khatiwada urged all to lead the nation towards the election as election related bills were submitted in the parliament.
CPN (UML) lawmaker Ananta Prasad Poudel urged the government to provide the compensation to the people who were affected by the road extension.
CPN (Maoist centre) lawmaker Umesh Kumar Yadav filed his disapproval on the report of local body restructuring commission in some Tarai districts.
Rastriya Prajatantra Party lawmaker Kunti Kumari Shahi urged to announce the public holiday on the occasion of national unification day on Poush 27.
Likewise, Madhesi Janadhikar Forum (Democratic) lawmaker Yogendra Chaudhary drew the attention of the government as people were getting difficulties to receive information regarding the pain and problem of foreign employees.
Nepal Workers and Peasants Party lawmaker Dilli Prasad Kafle raised the voice on the increasing challenge faced by the community schools.
Similarly Rastriya Janamorcha chair Chitra Bahadur KC said that the course of federalism was introduced in the country without realizing geopolitics.
He further said the constitution amendment bill was forwarded amidst protest from the opposition parties on Sunday aimed at disintegrating Tarai from hills.
On the other hand ruling NC lawmaker Mahendra Yadav shared that tabling the constitution amendment bill has created an appropriate environment to lead the nation towards the elections bringing disgruntled parties into consensus.
UML lawmaker Sher Bahadur Tamang opined for providing royalty to the Melamchi drinking water project affected people.
Likewise, lawmakers Yogendra Tamang Ghising and Bhakta Bahadur Bishwakarma Khapangi had also spoken in contemporary issues in the meeting. RSS