MPs drawing attention of Parliament and govt on contemporary issues
---
---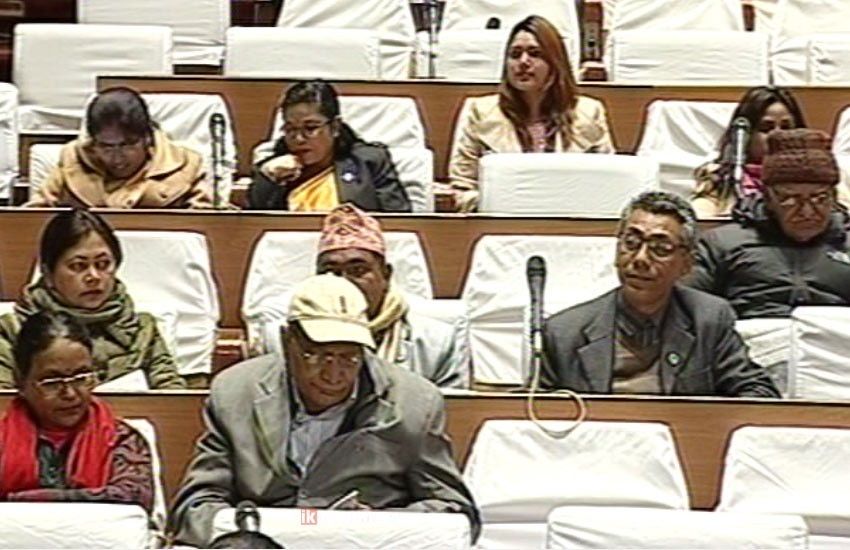 Nepali Congress lawmaker Deepak Prasad Kuinkel demanding for holding local polls urged to revise the report of the Local Bodies' Restructuring Commission (LBRC).
CPN (UML) lawmaker Bhawani Prasad Khapung demanded not to extend the age bar of the civil servants. He further urged the government to reach the reliefs for fire victims of Sankranti Bazaar of Tehrathum district.
Nepali Congress lawmaker Sita Gurung urged to reach the reliefs to the fire victims of the same place.
CPN (Maoist Centre) lawmaker Surya Prakash Balarai stressed on the unity of government and opposition parties in developmental issues.
Federal Socialist Forum Nepal lawmaker Shivaji Yadav drew the attention of the government to resolve the problems faced by the farmers.
Rastriya Prajatantra Party lawmaker Kanta Bhattarai said that the State should honour the modern Nepal's unifier Prithvi Narayan Shah.
Tarai Madhes Democratic Party lawmaker Jangilal Ray warned of protest in Tarai if the LBRC's report was not corrected.
Arguing that 14 provinces were appropriate for the country, Nepal Labor Peasant Party Prem Subal demanded that the foreign interference in the domestic affairs be ended.
Terai Madhesh Sadbhawana Party Mahindra Raya Yadav and CPN-UML Paachkarna Rai expressed their qualm over the report of the Local Level Restructuring Commission and stated that it would not help address local issues.
Nepal Pariwar Dal Eknath Dhakal urged the government to review the compensation provided by the government to those adversely affected due to proposed 1200 mega watt reservoir-based Budhi Gandaki Hydro Electricity Power as he termed that the compensation amount differed from households to households.
Stating that the foreign diplomatic missions providing scholarships to the Nepali students was "unfortunate" for the country, Nepal Rastriya Party's Laxman Rajbanshi drew the attention of the government towards this practice he deemed foreign forces exercising influence among Nepalis.
While CPN-Maoist Centre Karna Bahadur BK demanded prompt action against the culprit of murder of Ajit Magar and Laxmi Pariyar of Kavre and performance of their final rites, Surendra Prasad Jaiswal demanded compensation to the families of those killed by the underground groups in Terai.
CPN-UML Guru Prasad Burlakoti underscored the need to address the issues of the public residing in the forest areas of Dhading. RSS