Elections essential to safeguard achievements, says PM
---
---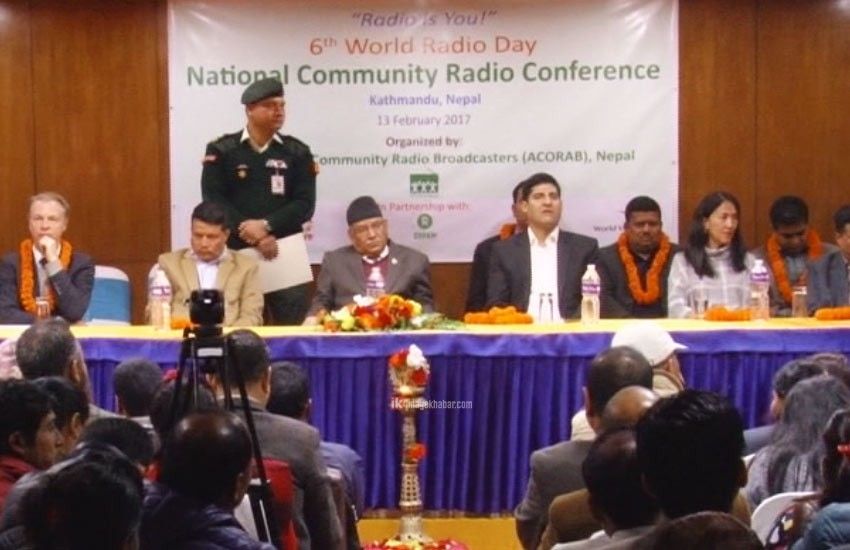 Addressing a programme organised by the Community Radio Broadcasters Association (Acorab) Nepal here today to mark the sixth World Radio Day, the Prime Minister called one and all to support the government in its 'mission' to hold the three-tier election within upcoming January 21.
"The government is all committed to holding the local poll by upcoming May–June," he said,hoping for full support from radio workers towards that end.
Forewarning of the probability of occurrence of political confusion in the country in the absence of timely elections, he insisted on support and cooperation to the government from all quarters to conduct the elections within the planned dates.
He added that collective efforts were essential to hold the elections as the government or a single political party and certain people could not carry out this job alone.
The Prime Minister further pledged that the government would recognise and promote radio stations run by women and dalits, applauding the role of radio in disseminating information of center to the rural areas.
Role of community radio in the society was gradually increasing, he said underlining the need of production of quality materials.
Vice President of Federation of Nepali Journalists Khil Bahadur Bhandari said the effectiveness of radio in the society was more than of other means of mass communications and State's focus should be laid on their sustainability.
Acorab President Subash Khatiwada highlighted the pivotal role of community radio in the sustainable development of the country.
World Association of Community Radio Broadcasters (Amarc) vice president Meen Bahadur Shahi sought the State's attention to the promotion of community radio which according to him had always an important role in movements for positive changes in the society.
Presently, 315 community radio stations are operation across the country. RSS