Election indispensable for implementing constitution, says PM
---
---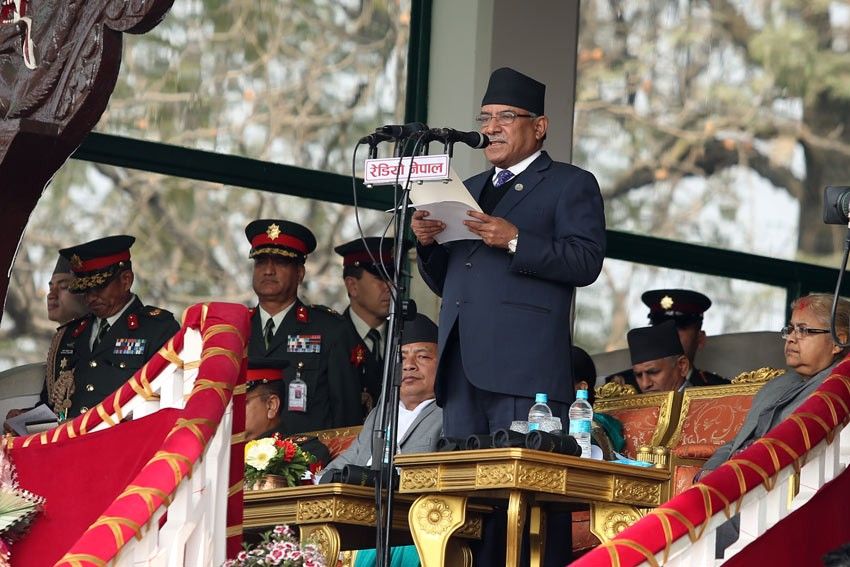 At the special function held to mark the 67th National Democracy Day, 2073 at the army pavilion this morning, President Bidya Devi Bhandari, Vice-president Nanda Bahadur Pun, Prime Minister Pushpa Kamal Dahal 'Prachanda', Chief Justice Sushila Karki, ministers, heads of constitutional bodies and chiefs of diplomatic missions were present.
In his address on the occasion, Chairperson of the 67th National Democracy Day, 2073 main celebrations committee and Prime Minister Prachanda said elections were indispensable for implementation of the constitution, and that the government was fully conscious about it.
"The government is serious and aware of the fact that elections are inevitable for implementation of the constitution, and would take the peace process to a logical conclusion to bring an important dimension of political transition to an end," he said.
Stating that all political and legal issues related to elections have been dealt with, the Prime Minister shared that the Election Commission has already been communicated to make preparations for holding local elections by mid-May. The fulfillment of the posts of election commissions too should wipe out any doubts over the elections, he said.
The Prime Minister said federalism has been the most challenging in the implementation of the constitution, and added, "Taking power and resources from Singha Durbar to the people's doorsteps through federalism would not only meet the aspirations for recognition of identity, but also make the governance accountable and increase credibility and acceptability of the overall system of the state by increasing the backward and underprivileged group's access to opportunities".
On the occasion, he also appealed to all political parties, civil servants, security bodies and members of the general public to contribute from their respective side in strengthening national unity and taking Nepal towards the path to prosperity.
Noting that Falgun 7 has a special importance in Nepal's modern political history, he also wished that the 67th democracy day plays a motivating role in strengthening political stability and democracy, implementing constitution and bringing qualitative changes to the life of the people.
At the function, a Nepali Army helicopter displayed the banner reading 67th National Democracy Day, 2073 and showered flowers at the event site. A march past was presented by the Nepali Army, Nepal Police, Armed Police, Nepal Scouts and various school students.
Members of National Sports Council displayed various sports while pageantry was paraded on behalf of Kathmandu metropolis, Lalitpur Sub-metropolis and Bhaktapur municipality.
President Bhandari, Vice-president Pun, Prime Minister Prachanda and Chief Justice Karki on the occasion released pigeons as symbol of peace. Tributes were also paid to known and unknown martyrs who laid down their lives for establishment and restoration of democracy in the country. RSS