Parliament starts deliberations on government's policies and programmes
---
---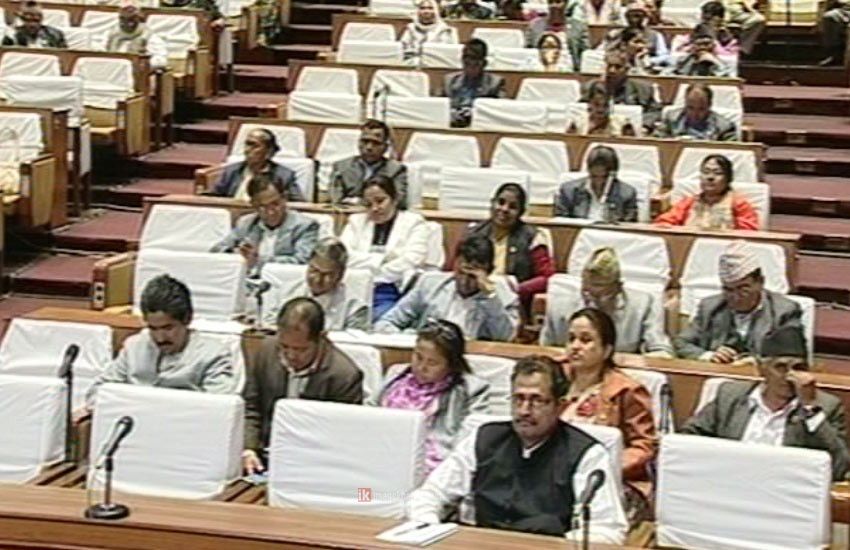 Taking part in the deliberation, CPN-UML parliamentary party deputy leader Subas Chandra Nembang expressed happiness over the resumption of the parliamentary business while noting they wish to see the policy and programme of permanent government rather not of a caretaker.
Ram Narayan Bidari of CPN (Maoist Centre) accused the main opposition party, UML, of making mockery of parliamentary system and termed the government policy and programme scientific.
Kunti Kumari Shahi of Rastriya Prajatantra Party urged all political parties to cooperate to hold the second phase of local election and expressed her confidence that the peopled elected local representative could only cater to the people's need of sustainable development.
UML lawmaker Lal Babu Yadav said the policy and programme has nothing new measures to bridge the rural-urban gaps.
Kamal Pangeni of Nepali Congress called for the main opposition party to show positive gesture to endorse the constitution amendment bill which was brought to widen the acceptance of the constitution.
Also speaking on the occasion, lawmaker Dr Subodh Kumar Pokharel demanded attention for modernization in agriculture sector and adequate availability of money at local levels.
He said that the government was successful in its campaign of 'Light Nepal'.
Ramhari Khatiwada of Nepali Congress claimed that the government policies and programmes had addressed the demands of opposition and come on its consent, insisting on the need that all political parties should have unity regarding the implementation of constitution.
Likewise, lawmakers Dr Ganeshman Gurung, Kripasur Sherpa, Ananda Prasad Pokhrel and Geeta Chhetri aired their views on vivid aspects of the policies and programmes.
President Bhandari had on May 25 presented the government policies and programmes. As per the parliamentary customary, the government policies and programmes should get approved before the announcement of a new budget and in the context of Nepal, the constitution has set 15th of the month of Jestha in Nepali calendar as the 'budget day'.
Fresh policies and programmes were brought amidst the two rounds of local-level at the consent of political parties, giving continuity to the existing programmes. That's why the parliament held no pre-budget session this time.
Prime Minister Pushpa Kamal ' Dahal' had resigned as per the previous agreement between the ruling partners on May 24, a day before the presentation of government policies and programmes and a less number of amendment proposal comparatively than past were registered this time.
Prem Suwal of Nepal Workers and Peasants Party, presenting an amendment proposal regarding the policies and programmes, demanded that policies and programmes should incorporate the issue of withdrawing the constitution amendment bill and of controlling corruption and price hike.
The amendment proposal had extended gratitude to the President.
NWPP's Anuradha Thapa Magar sought the inclusion of a provision of establishing a child care center and a child park in every wards and settlement.
Durga Poudel of Rastriya Janamorch, presented an amendment proposal seeking the provision of acquisitioning personal land beyond the ceiling and distributing to landless.
The Legislature-Parliament shall meet again at 11am on May 28, tomorrow. RSS