New PM Deuba, three DPMs, four ministers sworn in
---
---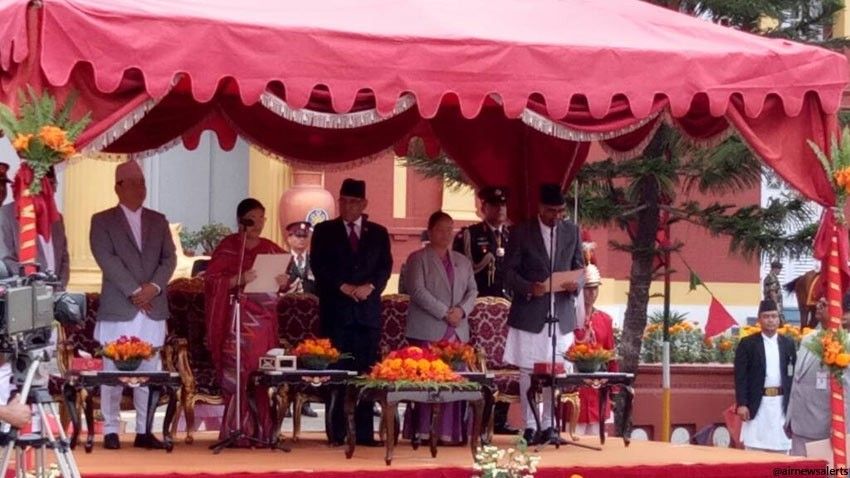 The Legislature-Parliament Tuesday elected Nepali Congress (NC) President Deuba and lone candidate in the race of the new prime minister as the 40th Prime Minister through an election. A total of 558 lawmakers took part in the election and Deuba secured 388 votes in his favour while 170 votes were cast against him.
His first prime ministerial term was from 1955- 1997 while the second one was from 2001- 2002 and he had again assumed the post of prime minister from 2004-2005 as his third stint as PM.
Deuba took oath of office and secrecy as the Prime Minister in the name of God, country and people.
Vice President Nanda Bahadur Pun, preceding Prime Minister Pushpa Kamal Dahal 'Prachanda', Acting Chief Justice Gopal Parajuli, Speaker Onsari Gharti and chairman of main opposition CPN (UML) KP Sharma Oli were present on the occasion.
Likewise, former Prime Ministers, former Deputy Prime Ministers and Ministers, chiefs of constitutional bodies, chiefs of three security bodies, high-ranking government officials, chiefs and representatives of Nepal-based diplomatic missions, various political leaders, journalists and business community were also present on the occasion.
Following the swearing-in ceremony, dignitaries preset on the occasion congratulated Deuba.
Likewise, three Deputy Prime Ministers– Bijay Kumar Gachchhadhar also the Minister for Federal Affairs and Local Development from the Nepal Loktantrik Forum; Krishna Bahadur Mahara along with the portfolio of Ministry of Foreign Affairs from the CPN (Maoist Center) and Gopalman Shrestha also the Minister for Education from the Nepali Congress—took oath of office and secrecy from the President on the occasion.
Similarly, the President administered oath of office and secrecy to four ministers in the Deuba's government–NC leader Gyanendra Bahadur Karki (Minister for Finance); CPN (Maoist Center) leader and previous Energy Minister Janardhan Sharma (Minister for Home Affairs); NC leader Farmullah Mansoor (Minister for Labour and Employment) and CPN (MC) leader Prabhu Saha (without portfolio). RSS