President presses for efforts to minimize impact from natural disasters
---
---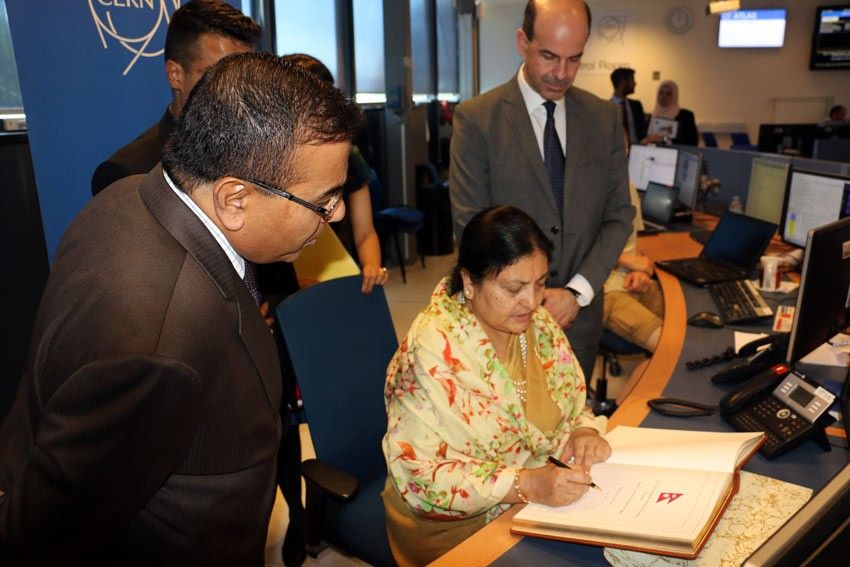 -Surendra Bahadur Nepali
Geneva, June 17: President Bidya Devi Bhandari said the international organizations working for nature's conservation must make an effort in minimizing the damages caused by earthquakes and other forms of natural disasters in countries of the likes of Nepal.
The President visited the International Union for Conservation of Nature (IUCN) headquarters on Friday and held talks with experts during which she pointed out that Nepali people would move ahead by adorning the Earth, not by destroying it.
IUCN Director General, Inger Anderson, welcomed the President upon her arrival at the IUCN headquarters. President Bhandari also stressed that the tiger population was burgeoning in Nepal while underscoring the government's plans and policies for expanding the conservation areas.
She added that projects were being advanced for reforming the river systems for management of landslides and flooding. She also spoke of Chure Conservation Area as being made a national pride project.
Arguing that Nepal's natural beauty was part of the world heritage, President Bhandari called for necessary support from all in its conservation.
On the occasion, experts briefed the visiting Nepali President on IUCN run projects and activities in relation to protecting Nepal's tiger population, natural heritages, conserving the sloping landscapes, expansion of the national parks, development of international and regional relations in conserving the environment and development of natural structure.
IUCN has been providing public, private and non-governmental organizations with the knowledge and tools that enable human progress, economic development and nature conservation.
It has a membership network of more than 1200 governmental and non-governmental organizations. There are a total of around 11,000 scientists and experts working with the IUCN.
During the tour, President Bhandari also gave a short audio-visual interview on efforts for conserving Nepal's environment. IUCN Director General Anderson took the occasion for extending a gift to the visiting President.
Nepali Ambassador to Switzerland and Permanent Representative to the United Nations, Deepak Dhital, Foreign Ministry's Secretary, Shanker Das Bairagi, President's Personal Secretary Dr Bimala Poudel Rai and Foreign Ministry's Spokesperson and Joint Secretary and Head of the Ministry's United Nations, International Organizations and International Law Division, Bharat Raj Paudyal, accompanied the President during her visit to the IUCN headquarters. RSS