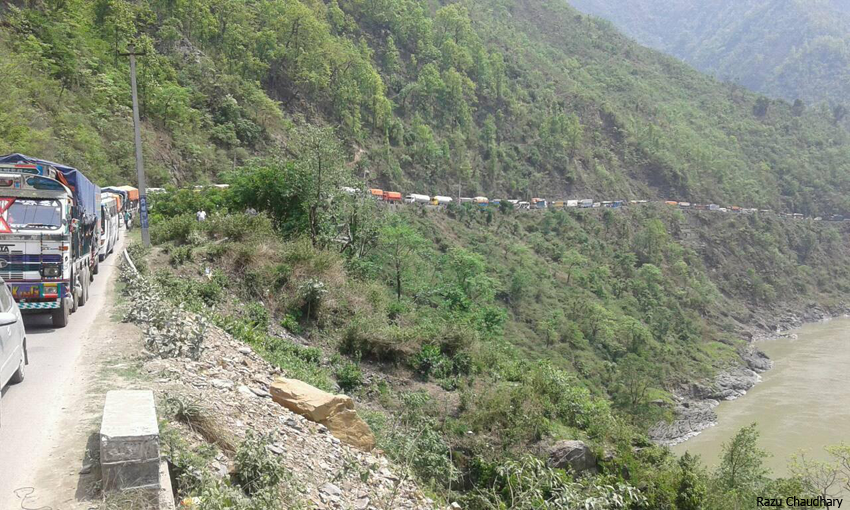 District Police Office, Chitwan's Superintendent of Police (SP), Deepak Thapa, said the landslide struck at 10 pm. The authorities could not remove the landslide debris during the night, but started the work from early morning hours.
The route was closed on Friday after multiple landslides fell at 2 pm. The vehicular movement along the route resumed only at 5:15 pm on Sunday. The vehicles had remained trapped in the jam for two days, and the renewed obstruction from a fresh landslide has stranded the passengers heading to their destinations.
Tourists rescued from Sauraha
The tourists in the Sauraha – based hotels were rescued on Sunday after torrential downpour sent flood waters inundating the hotels, resorts and restaurants. The monsoon downpour swelled the Rapti and Budhi Rapti rivers flooding the surrounding areas on Saturday night.
The tourists had been evacuated to the upper floors after the flooding. The Nepal Army, Armed Police Force (APF) and civil police including the local and hotel entrepreneurs were involved in the rescue operation.
Tourists were transported on tractors, vehicles, elephants and rafting boats, according to Inspector Abhaya Bikram of Area Police Office, Ratnanagar and taken to hotels located at safer areas.
At least 30 tourists were rescued this morning alone from the Bagmara Buffer Zone Community Forest. Chief District Officer, Narayan Prasad Bhatta, said the actual data of the number of rescued tourists was yet to arrive. RSS