Education Minister unveils five-year road map for education sector's reform
---
---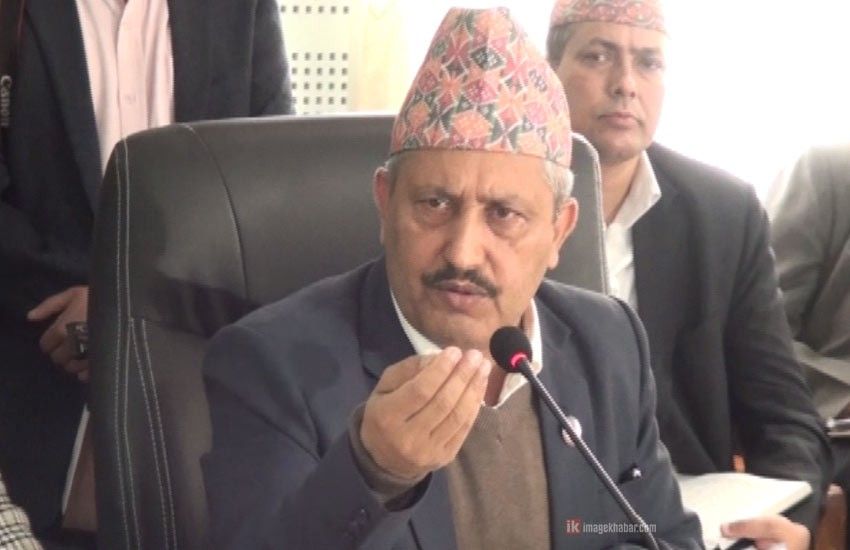 Minister Pokhrel unveiled the 10-point road map amidst a press meet at the Ministry today.
The plan incorporates various issues relating to the creation of policy level and legal bases to improve quality of education sector, structural and other organizational reforms, primary child education, common commitments, quality of public education, regulation of private education system, higher education, open education, science and technology, good government and management, among others.
Formulation of an education policy useful in building of pro-socialist prosperous nation and implementing federalism, compulsory and free education up to 12 class, research and innovation-based education system and promotion of science and technology have been highlighted in the road map.
Likewise, establishment of one residential school on mother tongue in every province, of specified art and sports schools to address the interests of students, revision of teachers' quota and creation of additional seats, and availability of high-speed internet services in all schools have been promised through the roadmap.
Implementation of green zone programme in schools and private school scholarship programmes (one equals to ten students) for students from deprived and poor communities, classification of universities into national and province universities, appointment of universities' office bearers through open competition, establishment of e-library and e-learning center at every local level have been mentioned in the plan.
Besides, the roadmap includes the issues of announcing the country literate within the next two years, associating Gurukul, Bihar, Gumba, Madrassa, open and alternative education programmes with the National Competency System, and promoting science and technology right from the primary education system.
On the occasion, the Minister said the road map will be implemented in coordination with the province and local governments, He pledged to take all elaborate measures to materialize the road map.